When it comes to internet, fast is never fast enough. That's especially true now when so many of our customers are learning, working and living nearly entirely online — all using different devices at the same time.
So we're more than a little excited to announce 2 Gig today — bringing even more bandwidth and speed to customers in internet-intensive households who may need more than a gig to do their thing, whatever that may be.
Google Fiber launched in 2010, offering 1 Gig speeds. Back then, the average residential internet speed in the US was 7.12 Mbps down and 2.42 Mbps up (and that was a 16% improvement from the year before!).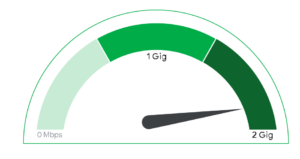 Today, as we continue to grow in the 19 Google Fiber and Google Fiber Webpass cities across the U.S., we also continue to learn from our past and from our customers. We've innovated new build techniques, allowing us to build faster than ever before, and we've established Google Fiber as a leader in customer service.
And we've learned that many of us need more: more to help us work better, to help us learn smarter, to bring us gaming and entertainment in new ways, and to fuel innovation and entrepreneurship across our economy.
Why 2 Gig?
This year has made this need for more speed and bandwidth especially acute, as many of us are now living our entire lives — from work to school to play — within our homes, creating unprecedented demand for internet capacity.
2 Gig will answer that challenge. At $100 a month, it's double the top download speed of our 1 Gig product (with the same great upload speed) and comes with a new Wi-Fi 6 router and mesh extender, so everyone gets a great online experience no matter where they are in the house.
Google Fiber networks are designed so there's plenty of capacity to allow our customers, with the right in-home hardware, to reach 2 Gig (and even faster) speeds. Our approach to network design allows us to keep our customers connected to the fastest speeds available.
So… how can I get it?
We're looking for people to help us test 2 Gig, starting in Nashville and Huntsville next month and in our other Google Fiber cities later this fall. Game changers, super users, and families who need more from their internet can join the Google Fiber Trusted Tester program to be among the first to put the extra speed to use. Our testers help us make sure we're launching the best products and services possible for our customers, and we appreciate their help! Sign up here for an opportunity to be among the first to test 2 Gig in your city.
2 Gig will roll out to all of our Nashville and Huntsville customers later this year, with plans to launch the service across most of our Google Fiber and Google Fiber Webpass cities in early 2021.
Google Fiber brought you 1000 megabits in 2010, and we're upping that 2000 megabits for 2020. This is just the start of many more product launches to come. Our goal is to keep delivering groundbreaking speeds at competitive prices with the customer service Google Fiber is known for.