Atlanta, GA—Introducing the winners of the Converge 2021 DE&I Awards presented by the Technology Association of Georgia (TAG) and Accenture. 
Each category of the DE&I Awards is meant to honor top companies and organizations that embrace and embody inclusion and serve as stewards of our community fostering innovation. 
The inclusive Technology Leader Award honors companies with a program or project that promotes diversity, equity, and inclusion in technology. Elavon and Pyramid Consulting were the two finalists for this award. In the end, Pyramid Consulting was the selected winner. The decision was based on their accomplishments with the programs GenSpark—a program designed to give underrepresented minorities and women the opportunity to re-skill/upskill/get their foot in the door with intensive IT training and a career-path while providing diverse talent for clients—and Recruit:IN—a proprietary DEI Recruiter Training and Certification Program. 
The DE&I Emerging Technology Leader Award awards rising leaders in Georgia organizations who demonstrate leadership in diversity, equity, and inclusion programs or projects. The finalists for this award were Collen Reedy of Accenture, LaShaun Solomon of Comcast NBCUniversal, and Arielle Perez of Cox Enterprise. While each finalist was extremely qualified, Collen Reedy was the chosen winner. His achievements as a Global Lead for Accenture's Accessibility Centers and as a business owner for the Adjustment Request Tool gave him more of an edge in the judging portion. Through his leadership, Accenture created and effectively implemented accessibility guidelines and programs for 624,000 employees operating in 55 countries. 
The final award, the DE&I Impact Tech Leader of the Year, recognizes technology leaders of Georgia who head DEI programs or projects. The final decision was between Chloe Barzey of Accenture, Dr. Kendra Lewis Strickland of Georgia Tech, and Adam Moore of Truist. With careful consideration from our judges, Chloe Barzey was selected as the winner. Under Barzey's direction in the Accenture Atlanta Office Leadership team, they were able to create talent networks for mentoring and sponsorship, career development series, professional mentoring trees, and facilitating authentic conversations. These networks aided in empowering their people.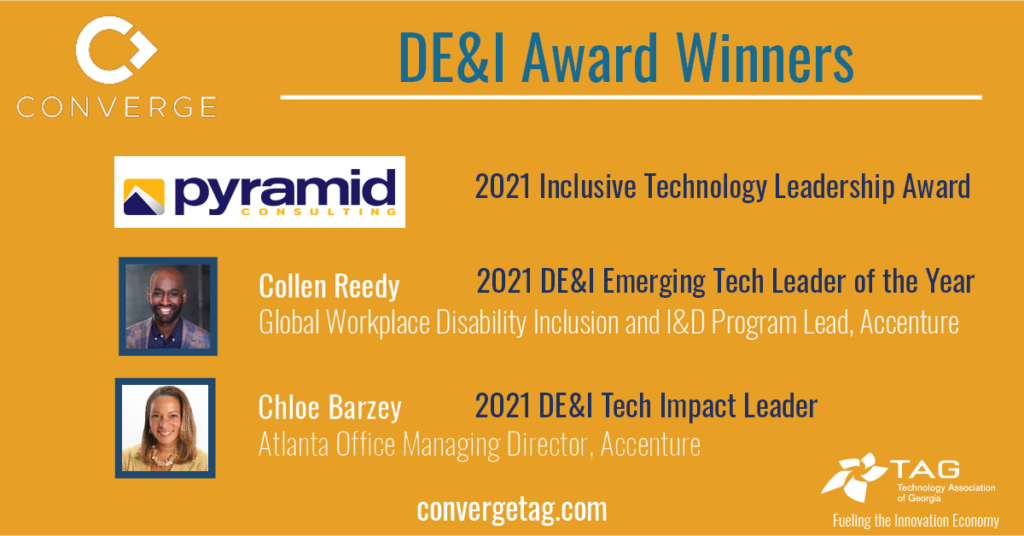 TAG would like to congratulate each finalist and our winners for the hard work that they have put in during their professional careers and we encourage them to continue to push diversity, equity, and inclusion to the forefront of driving innovation.  
"One organization can't do it all – it has to be the cumulative efforts of all of us together, locking arms, and making a difference, and continuing that conversation forward," said Moore. 
Thank you to our judges, Michael Hilkman, Teresa Edwards, Tia Jackson, Kim Shaw, Denise Smith, Elizabeth Friedman, Paquel Austin, Scott Klinger, Mary McCorvey, Erin Smith, Hamid Arjmand, John Wilson, and Ambika Soorappaiah. With your careful review of our applicants, we were able to have a fair competition.   
TAG acknowledges Converge 2021 co-chairs Maxine Cain of STEM Atlanta Women and Adam Moore of Truist, for hosting this great event and introducing our guest speakers.  
We would also like to thank our sponsors for aiding in making this event possible.