Atlanta, December 8, 2021 – The media and entertainment industry is undergoing profound changes and has largely recovered from revenues lost last year during the shock of the pandemic.
These changes, the innovations adopted by the industry and its significant economic impact are described in detail in TAG's first-ever Media and Entertainment Ecosystem report, which launched today.
In 2020, Media and entertainment contributed a whopping $2 trillion annual economic impact globally and some $500 billion in the United States, the largest media market in the world. In Georgia, the Technology Association of Georgia identified 713 media and entertainment companies employing 40,000 people and generating $14.7 billion in revenues annually. Georgia has developed into a global hub for film, television, music, and video gaming, and these subsectors together contributed $6.6 billion in revenue, according the report issued by TAG's new Media and Entertainment Society.
Despite undergoing a slump early in the pandemic, many media and entertainment companies have an outlook for solid growth. A significant number of companies tracked by TAG adapted to the challenges of the past two years by innovating on familiar platforms while also expanding in areas like streaming technology, thereby serving people's innate needs for entertainment to brighten their lives wherever they are. Combined, the companies tracked by TAG encompass six subsectors of media and entertainment and are projected to grow 6% annually through 2024.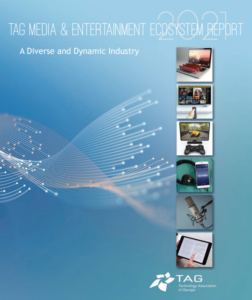 "This report does a fantastic job of highlighting the diversity of media and entertainment companies and the critical impact these firms have on the technology ecosystem," said Larry K. Williams, President and CEO of TAG. "It helps us understand the innovation and adaptability of the most successful media companies as well as the effectiveness of policies in Georgia that support film, TV and gaming. These policies are a powerful magnet attracting creative and production talent, along with the big budget films that companies are willing to make in Georgia."
With its strong contributions to Georgia's economy across six subsectors, Media and Entertainment is integrally woven into the state's economic fabric today, and poised to increase in prominence as the industry evolves in coming years. Furthermore, the increasing prominence of Georgia on the global stage, availability of world-class talent and the robust ecosystem of technological innovation will ensure that we have a highly dynamic ecosystem to accompany the sector's sustained economic growth.
The six media and entertainment sectors covered in the report are:
Film & Video Production & Distribution: Thanks to a combination of factors including economic recovery, resumed production, and expanded options for streaming, anticipated annual growth of this sector is 3.6% in 2021.
Television Production & Broadcasting: Streaming video helped offset a decline in advertising during the pandemic. Georgia TV ad revenues also saw a revenue spike from the 2020 elections.
Video Games and eSports Production & Distribution: Global video game revenues grew by 20% due in large part to the pandemic's stay at home requirement. Future revenues look very positive.
Music Production & Distribution: While streaming revenues were up, most of the other revenue indicators such as downloads, and performance rights dropped due to the pandemic malaise. Georgia generated about $469 million in 2020.
Radio Production & Broadcasting: TAG estimates that the radio industry in Georgia generated $477 million in annual revenue. During 2020, the radio industry suffered lower advertising revenues and several of the larger station owners filed for Chapter 11 reorganization.
Publishing Book, Newspaper & Magazine Production and Distribution: In 2020, the sales of books increased 8.2% and about 75% of the readers preferred the physical touch of paper. Newspaper and magazine publishers showed a revenue decline in 2020 and will likely show more decline in years to come.
The report highlights the recovery of film and video production in 2020 and 2021 and the industry's importance to the economy in Georgia. There are 129 such businesses in the state generating $2.9 billion in revenue and employing 16,000 people.
TAG identifies the following innovations driving film and video content creation growth during the pandemic.
CGI – Computer-Generated Imagery – software to create three-dimensional images
4K and 3D Technology – adds dimensionality to the viewers experience.
Dual Camera VR – binocular 360 degree viewing and recording.
Autonomous Drones – sentient drones with built-in knowledge and algorithms for filmmaking techniques
Algorithm Editing – programmatically making cuts and reconfiguring footage
Artificial Emotional Intelligence – using human emotions for predicting what type of content will bring a strong emotional reaction for the viewers.
---
About TAG's Media and Entertainment Society
The TAG Media and Entertainment Society helps companies and tech leaders embrace the latest trends in this vibrant arena. Programs and events hosted by this society cover a range of hot topics, from Esports and Gaming to Film and Digital trends. The Society is co-chaired by:
Quincy Johnson, VP of Distribution Partner Operations, WarnerMedia
and
Louis Gump, Senior VP & General Manager, Cox Media
About Technology Association of Georgia (TAG)
TAG's mission is to Connect, Promote, Influence and Educate Georgia's technology ecosystem to advance the innovation economy. Through those four foundational strategies TAG serves the technology community, helping to support, grow and ignite tech leaders, companies and the overall Georgia economy. TAG serves more than 31,000 members statewide through regional chapters in Metro Atlanta, Augusta,
Columbus, Macon/Middle Georgia, and Savannah. TAG hosts more than 150 events each year and serves as an umbrella organization for 20+ professional societies. TAG provides networking and educational programs, celebrates Georgia's technology leaders and companies, and advocates for legislative action that enhances the state's economic climate for technology.
Additionally, the TAG Education Collaborative (TAG-Ed) focuses on helping science, technology, engineering, and math (STEM) education initiatives thrive. For more information visit the TAG website at www.tagonline.org.