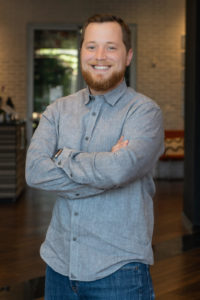 Bloom Our Youth, (d.b.a. Bloom) a social service nonprofit serving foster care children and families throughout Georgia, today announced the appointment of Cory Hewett to the company's board of directors.
The Board consists of individuals representing a wide array of industries and governs the Bloom organization. These individuals volunteer their time and talent to oversee the continued operation of Bloom. They also work directly with management to determine policy and future programs for the organization. Their function is to protect and enhance Bloom's capacity to serve the community.
"Cory's gift for thinking outside the box as well as his positive energy and entrepreneurial spirit make him a welcome addition to our board," said Becky Davenport, executive director of Bloom. "He will help catapult our organization to the next level."
Hewett is the Co-Founder and CEO of Gimme, a fast-growing, venture-backed technology company dedicated to helping food service and grocery delivery operators automate merchandising with computer vision and artificial intelligence, where he is responsible for the company's strategic direction and growth. Hewett is a technology catalyst with a wealth of experience in the vending and unattended retail sectors, and industry visionary on artificial intelligence and machine learning.
"I am so honored and grateful for the opportunity to serve such a public-spirited organization with a focus on improving the lives of foster children and their families in Georgia," said Hewett. "I have a great deal of respect for Bloom's vision and look forward to helping them to continue to grow in our community."
Bloom's programs provide a balance of services and support that is transforming the foster care system by connecting the community to evidence-based, outcome-driven programs that strengthen the lives of vulnerable children and their foster families. Formerly known as Fayette Youth Protection Home (FYPH), the organization originally ran two residential group homes and provided comprehensive services for victims of child abuse. A foster care component was added in 2007. In 2008, to support the children in the group homes and foster care program, a clothing closet was created as a place for foster children and their foster families to 'shop' for items for free.
---
About Bloom
Founded in 1986, Bloom Our Youth (d.b.a. Bloom) is a social service nonprofit serving foster care children and families throughout Georgia. The organization recruits, supports and trains foster families who provide displaced children hope and a home life for the next phase of their lives. We believe every child deserves the chance to be the best person they were meant to be. The organization helps support over 4,500 foster children each year.