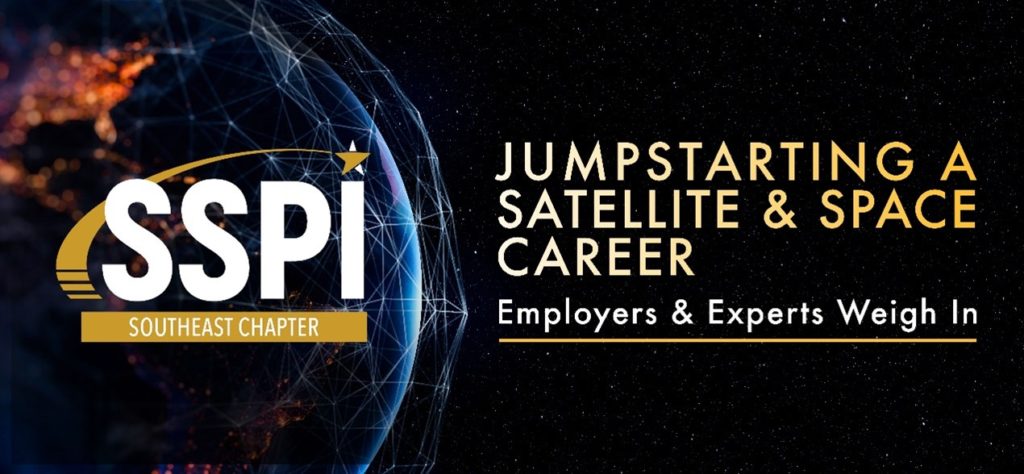 With the likes of Elon Musk investing in sexy megaconstellations in Low Earth Orbit and NASA's push to the moon and beyond, it's no surprise that new generations increasingly are turning their eyes to the stars when pondering careers.
In 2018, the U.S. space economy alone accounted for $177.5 billion of gross output and supported more than 356,000 private sector jobs, according to estimates by the Bureau of Economic Analysis (BEA).*
The space industry has grown from its origins in the military and powering satellite TV. Today, it touches essentially every major sector of the U.S. economy, including agriculture, forestry, fishing, hunting, mining, and utilities, which rely on satellite remote sensing software and services.
The Southeast Chapter of SSPI recently hosted a virtual Space Careers Panel and asked satellite and space industry veterans the best way for students or young professionals to launch themselves into a space or satellite career. The candid panel discussion featured voices from the worlds of STEM association leadership, an astrophysicist and author and both small and large industry players.
Space – Not Just for Engineers Anymore
"Space is not just for scientists and engineers – you don't need to be a STEM major…to work in space," said Laura Forczyk, author of Rise of the Space Age Millennials: The Space Aspirations of a Rising Generation.
Forczyk, a space career coach and founder of space consulting firm Astralytical, noted that the industry needs strong communicators as well as a host of other business skills. "With the democratization of space, or the opening up of space in many different areas, you see less of a need for strictly engineering and more of a need for multidisciplinary skills," she told a virtual audience of students and industry enthusiasts during SSPI SE's Engineers Week panel.
In addition to people with good communications skills, "you need people who know business and finance and policy and law. As more and more companies come online, you need that multidisciplinary background to keep up with what's going on and with your competitors," said Forczyk, who advised students to leverage what they do best.
The 'Cool Factor' of Space
Christian Adams, director, business development for Microspace Communications, successfully pivoted from an IT telecom career to the space industry. He admitted to being attracted to the satellite and space sector for its "cool factor."
"It's the next frontier….The thing that intrigued me about the satellite industry specifically was [satellites'] ability to connect anywhere around the world," he said. "Coming from telecom …there's a lot of technology and progressive ideas…but there are still restrictions with network infrastructure. You can only go as far as you have a cellular connection. With satellite you don't have those problems." He agreed with Forczyk that young people should "leverage what you do best." In Adams' case, he moved from a large telecom company to a much smaller business, which required agility.
"My background is in business development, sales and consultation. Initially you probably wouldn't think you'd get into the space industry with that kind of background. But it's so varied…what the space industry has to offer," said Adams, who urged students to not think that a certain major isn't a fit for a space career.
"We need people who think outside the box…who are thinking, 'What does the future of satellite look like?' 'What does the future of space look like?'"
He added, "Get excited about the prospect of joining this industry because it's not only the next frontier as human beings as where we're going to be but also the next frontier of technology."
Getting Involved and Networking Key
Jack Linder, principal of Jack Linder Consulting, a project management firm in the broadcasting sector, works frequently with students as the VP of Education for SSPI's SE chapter. He agreed with the other panelists that the industry has become much more interdisciplinary. He advised that students align themselves with an industry association focused on their area of interest.
"Every industry has a group that promotes that industry. I tell every student – find that group, go to their meetings, network and learn," he said. One way for your resume to stand out is to show that "I'm a member of SSPI. I'm a member of SIMPTE. I'm a member of TAG. That tells people who are hiring that you are not just in it to get a job, but that you are in it for a career and you want to learn."
The panelists suggested several avenues for getting internships, from looking at umbrella organizations that offer internships, such as NASA and the Brooke Owens Fellowship (for women and gender minorities pursuing aerospace careers), to networking with member organizations, to reaching out to employers directly on LinkedIn.
"Don't be afraid to reach out via LinkedIn and let them know your story," said Adams.
Two employers also participated on the panel: NXT Communications Corp. (NXTCOMM), a new satellite antenna manufacturer in Georgia, and SES, one of the world's leading satellite operators.
NXTCOMM's core antenna technology comes from a unique R&D relationship with Georgia Institute of Technology. CEO David Horton said the company taps engineering schools like Georgia Tech for disciplines from RF and electrical to mechanical engineering, but, as a hardware manufacturer, it also considers electronic assembly technicians – "the folks who are at the pulse of the product" – as equally vital to NXTCOMM's work.
"We plan to hire 50 additional manufacturing and technical staff in the next six months as we gear up our production," Horton said. "The ability for us to tap into the technical schools in Georgia is a very important part of how we're moving forward."
Technical Schools Key to NXTCOMM's Growth Plans
NXTCOMM sees a rich talent pool from nearby Chattahoochee Technical School as well as other technical schools. Horton said he plans to influence electronics curriculum at Chattahoochee Technical so it aligns to the needs of NXTCOMM's business. His advice to students?
"Do your homework, understand what your true passion is and be very careful about how you proceed with regards to an engineering degree. If you are not sure if engineering is your passion, try a technical school as an entry point into the industry," he said. "There are plenty of opportunities in electronics manufacturing or other areas in manufacturing and assembly businesses. Keep exploring."
SES: Seeking Broader Skills
Douglas Clayton, SVP of Human Capital for SES Americas, noted that SES's focus on engineering talent has evolved as the business has shifted priorities.
"A few years ago, high throughput satellites (HTS) were the big thing for us. About a year ago we began to shift our focus toward college students who were not studying so much electrical or mechanical engineering, but software system engineers and programmers. Now the big focus is on the cloud."
SES looks for college graduates with broader skills, too, who have a passion for not just learning – but also for collaboration and making a difference. Clayton observed that college students are looking for more than just making money and building cool things.
"They also are looking to know our commitment to diversity and our method to give back to society. MIT students were very interested in our satellite work but are also interested in what we are doing to help our society," he said.
To find the best and brightest workforce, SES runs a summer intern program with the Massachusetts Institute of Technology (MIT). SES hiring managers keep a sharp eye on those students who work well together. Clayton added that SES's Associate Program takes newly minted master-degreed grads who complete four six-month rotations around the world before being hired. Many of those program alumni go on to be part of the company's Leadership Development Program, created to cultivate SES's next generation of leaders.
Final Advice
In a final round of advice, the panelists offered these tips:
"Explore what your passion truly is…Space and aerospace is really large, so it's important to narrow down your focus." (Forczyk)
"Start to build your brand early and network as much as possible." (Adams)
"Find that group or groups that are in the areas you are interested in –attend the meetings, make sure this is what you have a passion for, network and learn." (Linder)
"Think of Moore's Law and how quickly technology changes. Be flexible and be prepared to pivot in a different direction and then you'll eventually find what you're truly passionate about." (Clayton)
"Don't be afraid to explore opportunities in the military. There are some very exciting career paths you can follow now with the new Space Force." (Horton)
---
*Bureau of Economic Analysis. 2020. "Preliminary Estimates of the U.S. Space Economy, 2012-2018."
https://apps.bea.gov/scb/2020/12-december/1220-space-economy.htm#scb