In technology it is easy to get caught up in the breakneck speed the industry moves. Every once in awhile, it is important to slow down and recognize the successes of our peers and collaborators. National recognition often comes in the form of by-the-numbers reports, but Georgia offers a host of ways to celebrate through a variety of programs honoring individuals and organizations.
Each year, Inc. releases its Inc. 5000 List featuring the fastest-growing private companies in the US. Georgia boasted 172 companies in the 2020 report with Atlanta-based OneTrust claiming the number one spot. Deloitte's annual Technology Fast 500 report recognizes North America's fastest growing technology companies and included 24 Georgia companies on its 2020 list- including three of last year's Top 40 Innovative Companies: BitPay, GROUNDFLOOR, and SaaSOptics. Georgia's Top 40 Innovative Companies showcases most exciting new technologies produced by locals every year at the Georgia Technology Summit (GTS). Don't miss your opportunity to be recognized as part of the 2021Top 40 Innovative Companies– Apply Today.
The first annual TAG Technology Awards will also be featured at GTS this April. This new awards program recognizes individuals and companies who made an impact throughout Georgia in 2020. Take a moment to nominate someone today. GTS rounds out its trifecta of industry recognition by honoring a new inductee into the Technology Hall of Fame of Georgia. Last year's inductee was David Cummings, influential technology entrepreneur and founder of Atlanta Tech Village.
It is important to celebrate the inspiring individuals that help Georgia lead in the global technology ecosystem. In addition to the Technology Hall of Fame of Georgia, there are several programs that seek to recognize individuals. The Imlay Leadership Award bestowed by the Technology Executives Roundtable (TER) "recognizes and celebrates individuals that have shown exceptional leadership on behalf of the Georgia high-tech community," and most recently honored John Yates of Morris, Manning & Martin, LLC. Atlanta Technology Professionals (ATP) celebrates leaders in our community at their annual Gala.
TAG and I congratulate all of this year's ATP Gala Finalists, including TAG Board Members Michael Sullivan, Brian Benn, Kim Trevisan, Gary Brantley, Ken Meyer, and Patrick Hiller.
Have a great weekend,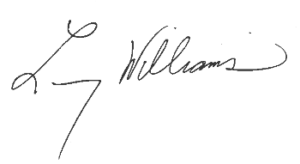 Larry K. Williams
President & CEO, Technology Association of Georgia (TAG)