TAG offers a powerful network for members to collaborate on complex topics. One example is the future of the workplace. It's a topic that matters a great deal to our members, and I've had a lot of fascinating conversations about it. I especially enjoyed my discussion with Theia Smith and David Cummings at the Georgia Technology Summit. 
Our most successful TAG members understand the key to success is finding and keeping the right talent. They work tirelessly to build a positive, productive culture that fuels innovation and lasts over the long term. That objective is particularly challenging in light of intense digital disruption and our recent experience with the pandemic.   
Several common themes come to mind as I've listened to tech leaders voice their thoughts on the future of work. Below are five questions to help guide ongoing conversations.  
What's the future of work from home?

 
The pandemic turbocharged the pace of digital transformation and proved that employees can be productive and happy when working from home.  
Now that offices are reopening, how will businesses manage teams, and how will these teams collaborate? How can we take advantage of strengthened remote communications, contactless payments and other lessons learned from recent experience with lockdowns? 
      2. How can we harness the power of AI without overwhelming our humanity? 
According to a recent PWC report, 67% of executives believe AI will help people and machines work together to improve operations.  
More and more TAG members are experimenting with AI to operate more effectively while also building a positive workplace culture.  
My takeaway from a recent conversation at a TAG panel was that AI offers promising opportunities in three areas: 
Customer/employee engagement (chatbots for support and recommendations)

 

Data Analysis (forecasting and optimization)

 

Automating processes (robotic process automation

 
The challenge for businesses is to combine the best of machine and human intelligence without our humanity getting overwhelmed. How can we make sure this powerful technology leads to positive outcomes in the workforce? 
       3. How can we build an inclusive workforce? 
Unfortunately, the opportunities of the innovation economy too often fail to reach critical groups in our society. We have to fix this today to build a strong workforce tomorrow.  
I invite all TAG members to join us on our journey to ensure social justice and equity are at the core of our mission and activities. Businesses can help by opening their doors to under-sourced and underrepresented talent, hiring young people from minority communities and those with disabilities such as autism.  
As our businesses become more diverse, they become more innovative, their work cultures grow healthier, and new markets open up as previously overlooked customers are served.  
       4. How can we build a culture of innovation? 
Businesses that embed innovation in their culture will make the greatest strides ahead of the competition.   
EY has done extensive research on building innovative teams, and their view is simple but powerful: "Organizations have to stop "doing digital" and start "being digital."  
That means taking innovation outside the confines of the research and development (R&D) and making it a driver of not only product and process development, but also brand, customer experience, supply chain and new business models. Innovation should be everyone's responsibility and championed nonstop by the leadership team. 
      5. How can we prepare the next generation? 
As we continue our work to fuel the innovation economy, TAG is focused on creating and developing the next generation of leaders for the tech industry.  
To that end, TAG-Ed, our non-profit foundation, strengthens Georgia's future workforce by providing students with access, exposure and awareness to STEM opportunities through innovative and relevant hands-on learning experiences.  
Recently, we launched Pathways to Leadership to harness and develop the potential in ambitious young professionals—the future C-Suite leaders. Participants learn directly from industry executives and enjoy diverse networking opportunities, in the process gaining skills and contacts needed to thrive in a wide range of tech careers. 
I invite you to continue the conversation with me on all of the above topics and more as we work together to shape the way we work and the nature of our workplaces.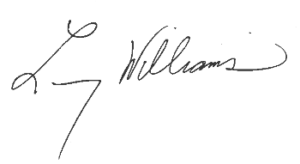 Larry K. Williams
President and CEO, Technology Association of Georgia (TAG)