As most of us have shifted to the virtual world, we continue to learn better ways utilize a variety of technology and platforms to connect with each for work and pleasure.  While I look forward to getting back into a room with friends and colleagues, I am pleased to see that there are effective ways to bring to life the virtual world.
Today we are wrapping up an extraordinary virtual event, Fintech South.  The global pandemic forced us inside by making us transfer an in-person conference and the beautiful Mercedes-Benz Stadium to a virtual platform.  And what a virtual event we put on!!  While the challenge felt daunting at first, the team at TAG and our partners chose to see the opportunity.  Quickly focusing on the fact that we are now borderless, we quickly decided to go big and go global – with great success!
Through more than 60 hours of content and over 300 speakers, we have established a new benchmark for digital events with this 5-day program that covers the FinTech industry end to end.  Over the week we had great networking, exhibits, a career fair, content, and a world class roster of speakers.  In addition to unveiling the biggest drivers of innovation in financial technology from around the world, we were able to feature some of Georgia's great culture through our food and music, further establishing Georgia as the global hub for innovation that we are.
I want to once again congratulate our Innovation Challenge winner to EnrichHER led by Dr. Roshawnna Novellus – I wish we could have delivered the $25,000 check in person but I know you will put to good use.
Thanks to Tommy Marshall and Porter Reese for their leadership as this year's chairs of FinTech South.
Now we turn our attention to very important conversation at our upcoming conference, Converge: Inclusion Drives Innovation. Mark your calendars for November 9-10!
Have a great weekend everyone,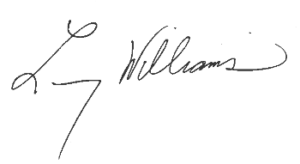 Larry K. Williams
President & CEO