Voter registration deadline is this Monday, October 5, and early voting has already begun in Georgia. GaVotingWorks, a non-partisan organization, is working with Georgia businesses in supporting employee engagement in elections and has already partnered with a number of technology companies in the state. It is focused on three major pillars: recruiting technology worker support for election day, promoting early voting, and helping secure resources for early and day-of voting. We encourage everyone to get out and vote and do your part to assist in the election process and build employee engagement.
While there is no doubt COVID-19 has significantly impacted how and when we will vote, it has also accelerated the shift to digital, giving us both opportunities and challenges in all aspects of our lives. We are now turning to digital technology to connect with each other in business with employees and clients, in education and learning, with our healthcare providers, and through government services.
It has certainly been a learning curve during this digital transformation, but now that we are becoming accustom to this "new normal," I don't see us going back. The efficiencies of digital health are significant. Our rural communities now have access to the care they need through telehealth, patients have better coordination with their doctors, and administrative tasks are now automated. Government has also found opportunities to accelerate technology and create policies that allow more digital engagements with residents of our communities.
This digital acceleration has impacted TAG as well by transforming FinTech South to a virtual platform, making it a global event. Georgia's fintech community is more connected than ever before, so join us October 5-9 where content will "follow the sun" across three world regions. Use FTS2025OFF for a $25.00 discount to gain access to a world-class virtual summit!
Have a great weekend everyone,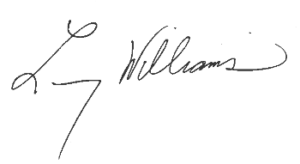 Larry K. Williams
President & CEO