Did you know there are more than 170 FinTech companies in Georgia, making it the technology epicenter of the financial services industry? This ecosystem is driven by innovation and continues to prosper with 70% of all credit and reward cards processed through a Georgia company.
For the past 33 years, the FinTech community has worked together to support and grow the ecosystem. Part of this growth has been creating a strong pipeline of FinTech talent in the region and establishing opportunities to share information and knowledge.
TAG developed the FinTech Ecosystem Report through a collaboration with the Financial Services Innovation Lab at the Scheller College of Business at Georgia Tech. A core component of the partnership was a primary research survey of more than 100 industry professionals drilling down on the opportunities and obstacles impacting the FinTech community. The last report was released in 2018 and revealed just how strong the FinTech ecosystem is in Georgia. Here are just a few highlights:
More than 38,000 FinTech specialists drive our ecosystem.
The top 20 Georgia-based FinTechs alone generate an estimated $72 billion in annual revenue.
57.7 billion U.S. purchase transactions are processed by Georgia-based acquirers, roughly two-thirds of the total volume.
This report is produced every two years, and we anticipate the results for the 2020 survey to be released later this year.
The opportunities to develop relationships within the FinTech community are abundant, and one of those occasions is quickly approaching! FinTech South (October 5-9, 2020) is taking the world stage with curated content segments from global FinTech leaders across the globe. This virtual conference has an amazing speaker line-up and will bring the Fintech South agenda to life.
Kicking off the conference on October 5 will be Fiserv Senior Vice Presidents Nandan Sheth and Vivian Greentree, Ph.D., and President and CEO of Invesco, Marty Flanagan. We will also be honoring M. Troy Woods, Chairman of Global Payments, with the Lifetime Achievement Award for his contribution to the FinTech community and induct him into the TAG FinTech Hall of Fame. I will be interviewing him during a fireside chat as part of our opening Atlanta Stage Keynotes session. And that's just the first day!
So, I encourage you to join us for this virtual summit and connect with 2,500+ FinTech leaders from around the world. For additional information on Fintech South and to register, visit https://fintechsouth.com/community/#theworld.
Have a great weekend everyone, and I look forward to seeing you (virtually) at FinTech South!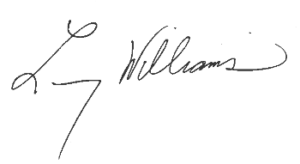 Larry K. Williams
President & CEO