In today's environment, connections are more important than ever! Whether it is through digital networking events, one-on-one video calls, email correspondence, or a good old-fashioned phone call, human contact is still the best way to learn, grow and engage. And there is certainly no lack of opportunities to connect during the next few months.
Fintech South is just around the corner (October 5-9, 2020) and is taking the world stage with curated content segments from global fintech leaders across the globe. This virtual summit will take place in Atlanta, a fintech hub generating $72B+ in revenues and attracting $1.1B+ in venture capital in 2019. Each content segment will open with a series of interviews with representatives from the world stage partners to share innovations and trends within their fintech ecosystems. This is a great opportunity to build connections with 2,500+ fintech leaders from around the world via the virtual event platform and 1-on-1 networking expo. For additional information on Fintech South and to register, visit https://fintechsouth.com/community/#theworld.
As connections grow and expand, TAG continues its digital transformation by implementing a new online system to better serve our members. It will further streamline member interaction with us online for things like easier event registration, membership directory access, and ongoing communications preferences. This will allow us to improve the way we connect, promote, influence and educate Georgia's technology community.
Last, but certainly not least, Venture Atlanta is October 21-22, 2020 and connects the most innovative companies, technologies and investors in the region. This year's conference will be fully digital and full of unique experiences and opportunities to network. TAG was a founder of Venture Atlanta and is proud to support the alignment of early-stage or pre–revenue companies with investors and capital. This type of networking has led to $3.9 billion in funding raised and $14 billion in successful exits within 13 years. For more information on Venture Atlanta, visit https://www.ventureatlanta.org/conference/.
TAG continues to support and connect the startup community with other initiatives such as the FinTech South Innovation Award, recognizing innovative U.S. fintech startups with ties to Georgia and the Top 40 Innovative Technology Companies in Georgia, recognizing Georgia-based technology companies for their innovation, financial impact, and their efforts at spreading awareness of the state's technology initiatives throughout the U.S. and globally.
No matter how or where you make your connections, know that it is an important aspect to grow a business and advance an ecosystem. We at TAG are committed to this and strive to connect our members and our community through a variety of networking opportunities. I encourage you to visit us online for more information  – www.tagonline.org.
Have a great weekend,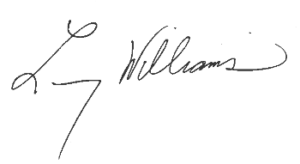 Larry K. Williams
President & CEO