Georgia is known in the world of fintech as "Transaction Alley," but we are so much more than that. We have established our reputation as a global fintech hub through innovation, investment, and sheer volume of business. The startup ecosystem here is bustling with incubators, funding and many competitions and awards including the Technology Association of Georgia's Innovation Challenge and Venture Atlanta. Last year, investments in Georgia-based fintech companies totaled more than $985 million. This year that number has already exceeded $130 million. Furthermore, over 70% of payments transactions in the United States are processed here. It is no wonder why 175 fintech organizations and over 38,000 fintech specialists call Georgia home.
Technologies from many ecosystems are entwined with fintech. Professionals in information security, cloud, blockchain, and data science and analytics are integral to fintech innovation. But fintech's reach goes beyond that, pulling in specialists in customer experience, diversity and inclusion, infrastructure, and more to stand out among the competition and make an impact both financially and socially.
I invite all members of our community to learn more through TAG's resources and upcoming events. The TAG Fintech Society hosts a number of resources on their webpage including up to date data, past events on demand, and Georgia M&A activity. Join them at their upcoming event "The Changing Regulatory Landscape: Impacts on Fintech and Industry Response" on April 20 to hear from experts in fintech, government relations, and legal. Fintech South returns June 22-24, bringing fintech leaders from around the world together for an interactive world-class summit – Register Now to lock in early bird rates before they increase at midnight!
Have a great weekend,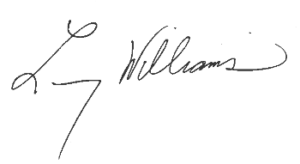 Larry K. Williams
President & CEO, Technology Association of Georgia (TAG)