When you look at the investment growth statistics of the fintech markets across the globe, one thing really stands out – funding is plentiful.
According to an Accenture February 2019 report, "Global investment in financial technology (fintech) ventures more than doubled in 2018, to US $55.3 billion, led by a surge in funding in China and strong gains in several other markets as investors placed larger bets in more mature startups. On a global basis, much of the growth was due to a nine-fold increase in the value of deals in China, to US $25.5 billion – nearly as much as the US$26.7 billion from all fintech investments globally in 2017."
Additionally, PaymentsSource notes, "The value of fintech investments for the first half of 2019 fell 29% to $22 billion from $31 billion in the same period in 2018, though the impact of one deal tells most of the story." Chinese firm Ant Financial's record $14 billion fundraise made up a large share of 2018's first half. Once that deal is removed fintech investment remained mostly strong, reports Accenture, which notes strong gains in the U.S. and U.K. Excluding Ant's deal, spending grew by 28%.
This is consistent with what we are seeing in the market right now at TTV Capital.
Venture capital money continues to flow into both later-stage deals as well as at the earlier Seed and Series A levels, with no signs of letting up. In previous years, we have often seen the dollar value of fundraising activity skewed by one or two "mega deals" in a quarter. A more accurate measurement is the number of deals and the distribution of those deals across various stages.
Strong activity at the early stage produces robust future activity at the later stage. The balance we see now is the result of the healthy activity seen in prior quarters, and it points to continued significant activity in later stage investments in future quarters.
Investments in the Atlanta market have been very strong in the first half of 2019 with more than 72 investments totaling over $800 million. The headline event among these was Greenlight Financial's recent $54 million raise from investors like Drive Capital, Wells Fargo and JPMorgan Chase. A Crunchbase News graphic below tells the story.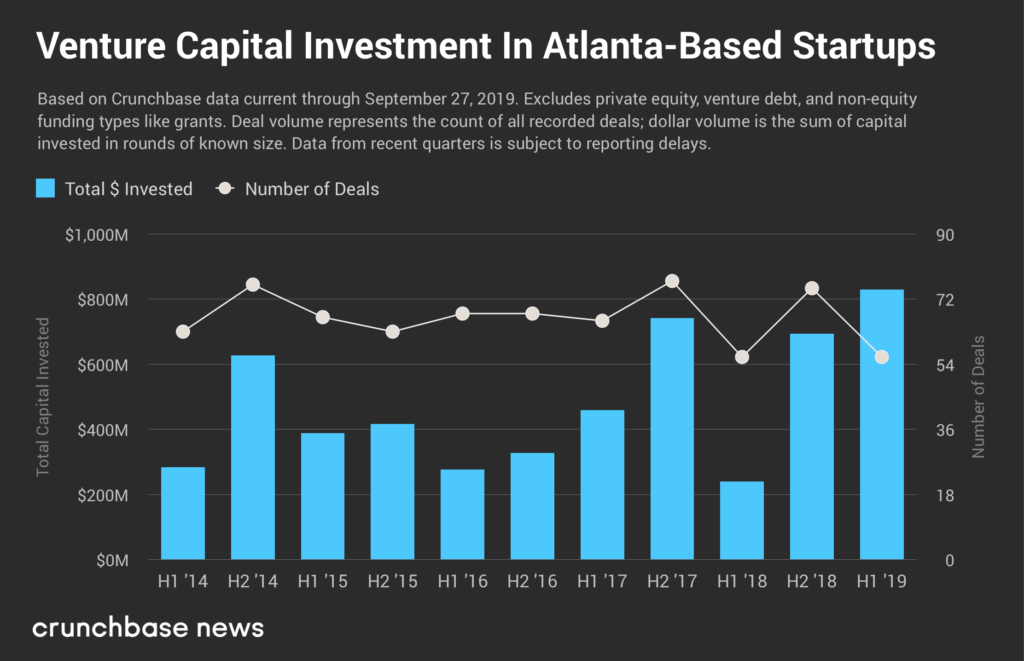 Atlanta is showing a healthy blend of both large and small funding rounds with a relatively consistent number of funding rounds. The two exceptions to this would be an atypically low first half of 2018 and the upward trend in the overall amount of money flowing into Atlanta based start-ups.
We'll see what the remainder of 2019 shows us.