In a comparative analysis of seven metro areas across the country, representatives from commercial real estate firm Savills North America showcased Atlanta's competitive profile with data following the demand of technology degrees across the nation; the annual graduate output within the Atlanta market; the diversity of Atlanta's educated population and Atlanta's place among other educated metro areas. Doane Kelly, the head of the KLG Advisors team of consultants at Savills and Heidi Learner, Savills' Chief Economist analyzed the macroeconomic environment affecting commercial real estate in the Atlanta metro area.
"The information and analyses we compiled allows a better understanding of the market's talent pool and the type of growth the Atlanta metropolitan area is experiencing. Technology, Advertising, Media and Information Technology (TAMI) represented nearly 20% of the largest corporate real estate transactions in the Atlanta market in Q2, a signal of continued growth in the technology sector as Atlanta continues to attract new market entrants," said Learner.
Overall, Atlanta continues to attract new market entrants as recently 64 companies have decided to locate or expand in Atlanta, with 39 relocating from out of state according to the Metro Atlanta Chamber of Commerce.
Increasing asking rents are a consequence of organizations using their real estate as a recruitment tool, as prime (and pricey) space can attract and retain top talent in a tight labor market. The success of Ponce City Market and Tech Square, with their proximity to the Belt Line, access to restaurants and amenities and alternative commuting options, are prime examples of this trend – and the recent sale of Southern Dairies illustrates that the model remains attractive.
Across the nation, the total number of bachelor's degrees conferred has seen a 40% increase from 2003 to 2015, although tech bachelor's degrees grew by only 5% across the same period. However, since 2009, technology bachelor's degrees have increased by approximately 55%, showing the recent demand for these skillsets.
Atlanta has, far and away, the most racially diverse educated population among the examined metros, while that of Denver and Nashville are substantially less diverse than the U.S. average. In 2016, of Atlanta's nearly 6 million educated residents having at least a bachelor's degree, 61% were White, 25% were Non-Hispanic, 8% were African American, 8% were Asian, 3% were Hispanic and 3% were classified as Other.
At the same time, Atlanta lags behind many other metros (Charlotte, Nashville, Austin, Denver) in terms of resident college educated population, while it is still above the national average of 31.6% for males and 39.7% of females aged 25-34.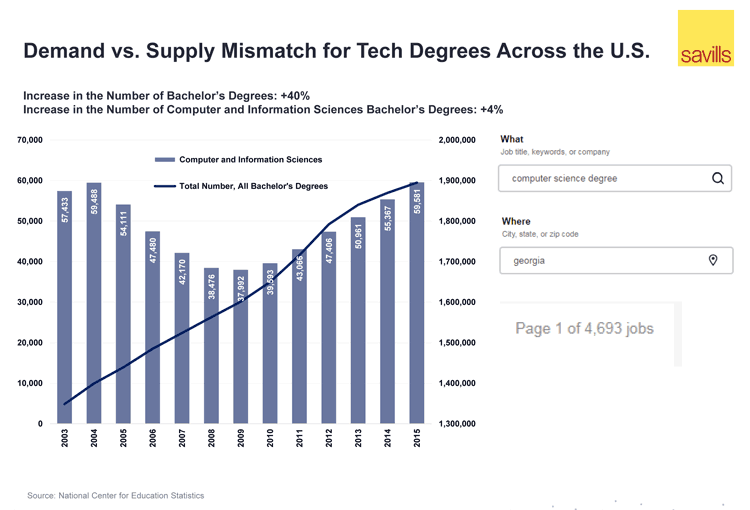 The Atlanta market is seeing a net inflow of STEM graduates into the market, even as we generate an impressive number of such trained jobseekers at area universities. These STEM (Science, Technology, Engineering, Math) degrees include computer and information sciences, engineering, mathematics and statistics and physical sciences, among others.
Atlanta has several favorable attributes that will continue to attract corporate interest and activity.
PROS
High diversity in the educated cohort
Great national and international connectivity
Quality local universities
Middle-of-the-pack ability to attract talent from other regions
Big city amenities
Favorable cost of living (including housing)
CONS
Slowing population growth
Over-reliance on cars with heavy congestion
Late to urbanization, but improving
Relatively small proportion of the young population who are 4-year college graduates
Georgia's Fintech ecosystem plays a key role in fueling metro Atlanta's prospering real estate market, and is poised to continue to do so.