This week we hosted a TAG CIO Roundtable centered on the Public Sector. The event highlighted the rapid change and diverse requirements facing the professionals that keep our cities, schools and state running.
While there is commonality between public and private sector – cyber security, privacy, digital transformation, and employee support – we learned of the scale and range of services that Public Sector CIOs must provide daily.
Imagine coming into work with the responsibility of supporting department-wide IT infrastructure across agencies and jurisdictions, providing on-demand education services to 750,000 students across the state and making sure water can be delivered, billed, and collected.  Include supporting the busiest airport in the world and making sure our health and safety professionals have always-on access to the resources they need.  Lastly consider the data management and analysis required across platforms for insights and management across jurisdictions.  And, don't forget about the parking meters.
Ok, I think you get the point.
Governments, like all businesses have been focused on digital transformation and COVID-19 has created digital acceleration.  Many governments have accelerated the use of e-signatures, e-notaries and all things "e" to keep the system running.  Telemedicine solutions have been rapidly deployed.  These are permanent and sustaining changes that will benefit each of us.
Of course, there are still challenges like access to high-speed broadband in rural markets.  This hinders access to digital alternatives that are being deployed.  Another challenge is the growing amount of cyber-attacks against our systems that control critical infrastructure.  Providing safe digital environments is an imperative.
At TAG, we are pleased to be involved in several initiatives across the state to improve the lives and well-being of our residents.  We believe and support collaboration between private and public sector to support innovation across Georgia.  There's no doubt why Georgia is leading.
We'd love your input. CLICK HERE
Have a great weekend,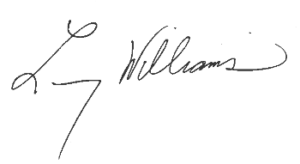 Larry K. Williams
President & CEO