We've come a long way in the past six months. Businesses are coming out of the pandemic, changing the workplace dynamic for the better. With the economy picking up, our members tell me their businesses are growing, they're investing more in technology and most importantly in people.
For our part, TAG is focused on fueling the innovation economy. We create value for members by making connections, removing friction and educating people through communities of knowledge ready to solve problems.
One new program I'm especially proud to roll out in the back half of the year is Pathways to Leadership. P2L provides a unique opportunity for ambitious young professionals to learn directly from industry experts and executives.
This kind of training is particularly valuable as employees return to the office and businesses strive to build a positive workplace culture where new ideas flourish.
If you know of someone who demonstrates a desire to connect with the Georgia business community, candidates may apply online but they'd better hurry. The deadline to apply is August 31.
There's a lot more coming from TAG in the months ahead. Please stay tuned for more updates from TAG as we move into the back half of what has been a year to remember.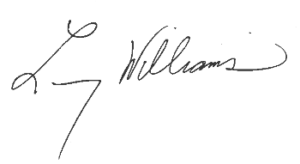 Larry K. Williams
President and CEO, Technology Association of Georgia (TAG)