Today, we pause our programming announcements to reflect and address a much more important matter affecting our community.
Racism has no place in society. We can and must do better.
We need to recognize that we are better, smarter and stronger when we consider the voices, the actions of all communities, and you have assurance that TAG will continue to advocate to have all those voices heard and respected but that means nothing without stating unequivocally that Black and Brown Lives Matter. Our identity, our very existence is rooted in empowering everyone in Georgia. So, therefore, it's incumbent upon us to use our platforms, our resources, to drive that systemic change.
TAG has always stood for social justice and inclusiveness and we will work even harder to create a better Georgia and a more inclusive technology community. Through partnerships, relevant conversations and advocacy, we will be part of initiatives that improve our community so everyone can equitably benefit from our collective prosperity.
The recent events have caused outrage and sadness. It feels that we have come so far to provide social justice across our community and now realize we've only taken baby steps. We can and must do better.
A colleague recently wrote that she worries about her son and daughter "every time they walk through the door." For her son, she fears he will be another black man murdered and her daughter not achieving a dream because she doesn't "fit the good ole boys mold." We can and must do better. She also reminds us that racial injustice didn't just show up recently.  Another colleague shares that he is now fearful to do his daily 4 mile jog today.  No one should feel this way.
TAG can and will do better.  Leaders of our Board of Directors have consulted and we will be working on a broader plan and we will need all of your ideas.  To begin, here are concrete steps we will take immediately:
Support statewide Hate Crimes legislation – advocating that Georgia join the majority of other states that have already passed this important legislation;
Work with our counterparts across Georgia and the United States, including TECNA – our national technology association – to implement initiatives and policies that propel social justice and economic equality;
Provide access and insights to our programs and events to utilize technology and innovation to advance the lives of Georgians;
Move our statewide conversation that "Inclusion Drives Innovation" that we started in 2019 to an actionable agenda with metrics and membership commitment.
We will build upon this agenda with the help of the TAG Board and members.
Technology is often viewed as a great equalizer. Technology can improve our lives and bring significant, sustainable opportunity to our people. It's our responsibility to ensure everyone has access to and can benefit from these opportunities.
We can and will do better.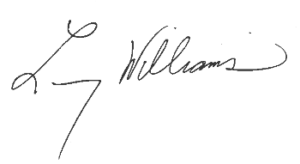 Larry K. Williams
President & CEO
Technology Association of Georgia