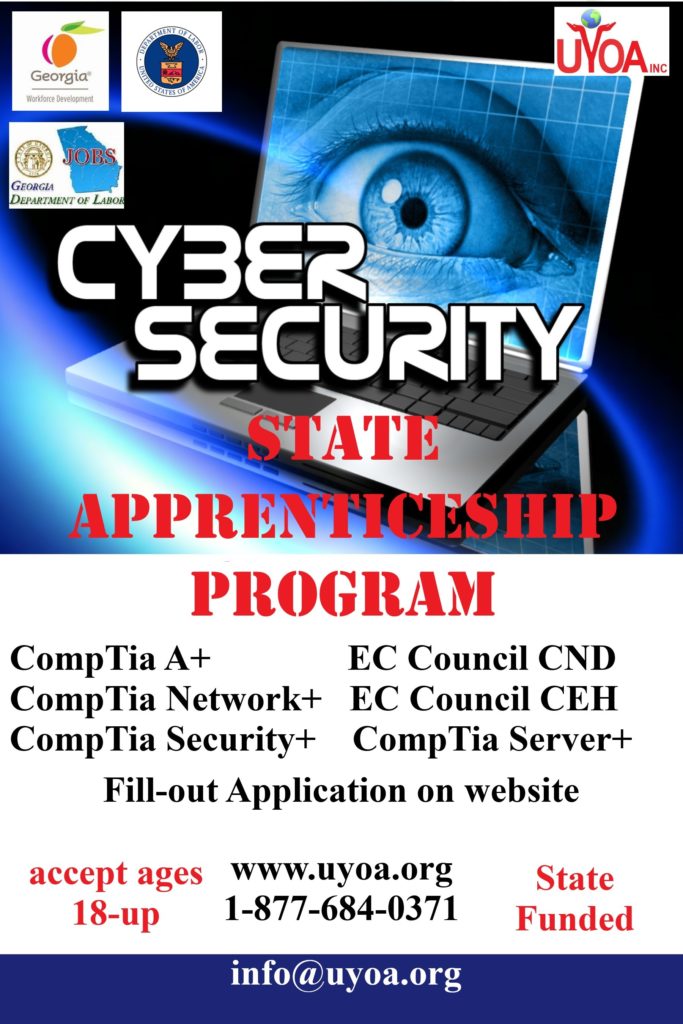 Join United Youth Of America (UYOA), at 10am – 2pm EST, Friday, September 18, 2020, for the live Virtual Student/Apprentice JobFair. Book your time slots to meet and interview and hire the students of UYOA face-to-face. Meet the Cyber Security students and interview them live. Find students who may be your future employee or student apprentice. If you are a Cobb County Georgia Company or Enterprise, we have the funding available now. Your company will receive a six-month payroll reimbursement for staffing our students for an apprenticeship or hiring our graduates. Register for your time, pick which (one hour) time slot would you prefer to interview the UYOA students on either Friday, September 18, 2020 Eastern? https://bit.ly/uyoavirtualjobfair
United Youth of America (UYOA), is a non-profit organization that was established in 1997. UYOA's mission is to serve the needs of underprivileged youth ages sixteen and up. This goal is accomplished by teaching the principles of success and self-worth through UYOA's innovative programs. Our organization serves low-income families and children. We believe that the entire family must be served to help children. The dedicated staff and motivated volunteers have worked hard over the last seventeen years to ensure a positive direction for UYOA.
United Youth of America (UYOA) addresses the need for increased economic opportunities that are accessible and affordable for young adults, 18 and up, living in underserved communities of the Metropolitan Area in Atlanta and surrounding counties.
UYOA prevents violence, delinquency and reduces the impact of dislocated workers, ages 16 to 55. The target location area are residents in New Mexico, Illinois, and Georgia. UYOA offers pre-apprenticeship programs and apprenticeship programs to students seeking careers or career change. Our Culinary Arts apprenticeship programs are Management receiving four certifications (ServSafe, Supervisor Management, Nutrition Certification and Culinary Certification).
We also offer Cyber Security Certifications as an apprenticeship program. Which consists of CompTIA A+, CompTIA Network+, CompTIA Security+, CompTIA Server+, EC-Council CND, and EC-Council CED. UYOA works to change the life-trajectory of our students, by providing them with instruction on life skills, financial literacy, job acquisition and stability and tutoring support for success. Find out more on our website https://uyoa.org