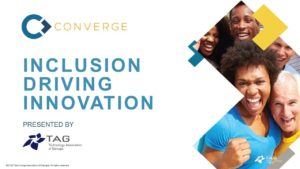 Explores Strategies, Plans and Outcomes Emerging at the Intersection of Inclusion and Innovation
ATLANTA (Sep. 23, 2020) – Technology Association of Georgia (TAG) releases its first round of keynote speakers for Converge and issues a call for nominations for its annual Diversity and Inclusion (D&I) awards.  Converge, which takes place Nov 9 – 10, 2020, serves as the Southeast's premier virtual summit dedicated to inclusion and driving innovation in the modern workplace.
Keynote Speakers include:
Vernice "Fly Girl" Armour, America's first African American female combat pilot – a Zero to Breakthrough.
Jimmy Etheredge, CEO Accenture North America and champion of improving equality, a proactive supporter of mental well-being programs and an advocate for bridging gaps across communities.
Phyllis Newhouse, An entrepreneur, retired military senior non-commissioned officer, mentor, Founder and CEO of Xtreme Solutions, Inc. and Founder of ShoulderUp. A pioneer in cybersecurity.
Converge is a summit for dialogue and education that convenes influencers in the emerging tech workforce culture. The event will highlight trailblazers who are creating a powerful ethos across the technology community to keep companies globally competitive and to foster the next generation that will drive innovation and Georgia's economy.
"TAG is committed to social justice and fostering change in many ways to serve our community and members. Converge is a key summit for us where we will feature keynotes, interactive content sessions and TAG's annual Diversity and Inclusion Leadership award spotlighting the champions that inspire each of us," shares TAG President and CEO, Larry Williams. "The intersection of inclusion and innovation cannot be more essential as we build better products, services and workplaces and serve our community."
Annual D&I Awards
Converge will recognize top companies and organizations that embrace and embody inclusion and serve as stewards of our community fostering innovation. We will also celebrate one of the highest honors in Georgia's technology community of Diversity and Inclusion leader of the year. Nomination are open through Oct 16.
The title sponsor for Converge is Accenture. For information on sponsorships, D&I award nominations, participation and speaking opportunities, visit www.convergetag.com. A portion of all ticket sales will support TAG-Ed.
---
About the Technology Association of Georgia (TAG)
TAG's mission is to Connect, Promote, Influence and Educate Georgia's technology ecosystem to advance the innovation economy.  Through those four foundational strategies TAG serves the technology community, helping to support, grow and ignite tech leaders, companies and the overall Georgia economy.
TAG serves more than 30,000 members statewide through regional chapters in Metro Atlanta, Augusta, Columbus, Macon/Middle Georgia, and Savannah. TAG hosts more than 150 events each year and serves as an umbrella organization for 26 professional societies.
TAG provides networking and educational programs; celebrates Georgia's technology leaders and companies, and advocates for legislative action that enhances the state's economic climate for technology.
Additionally, the TAG Education Collaborative (TAG-Ed) focuses on helping science, technology, engineering and math (STEM) education initiatives thrive.
For more information visit the TAG website at www.tagonline.org. To learn about the TAG-Ed Collaborative visit www.tagedonline.org.