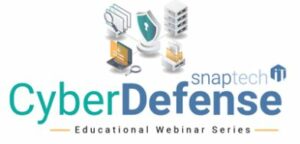 Businesses thrive in a collaborative environment that enables team members to easily share, store & secure information to perform their jobs. With many cloud sharing tools, users battle a number of challenges when it comes to file access, simplified sharing & effectively securing files with the appropriate level of backup.
Join us for a client case study that demonstrates what modern & secure file sharing looks like.
We'll explore:
· Security, logging & compliance
· Ability to work from anywhere, no longer requiring a VPN
· Ease of accessing & sharing with clients & trust vendors
· Why local Storage Sync Server is a game-changer for users
· Availability of a CMMC compliant version
SAVE YOUR SEAT! https://attendee.gotowebinar.com/register/2512483452238342924?source=TAG
*If you can't make the date, register & we'll send you the recorded content.
About Us
Led by technology veterans in the industry, Snap Tech IT provides IT management, cybersecurity, cloud services, professional services & data center services for small and medium-sized businesses nationwide, with offices in Atlanta, Phoenix, and San Francisco. Founded in 2001, Snap Tech IT delivers technology to solve business challenges, coupled with exceptional client experiences that enable businesses to focus on strategy & growth. Snap Tech IT has solved a multitude of technical challenges for clients, from minimizing cybersecurity risk & operational downtime to managing IT roadmaps tailored for client business needs. A dedicated IT partner that believes client success is their success.