ATLANTA — October 6, 2020 — Google for Startups today announced the 76 recipients of the $5M Google for Startups Black Founders Fund, which provides promising Black Founders from across the country non-dilutive cash awards to fuel their businesses. With 35 of the 76 founders coming from Metro Atlanta, Georgia has the highest number of recipients among all states. Georgia-based Black founders will receive $2.35 million of the total $5 million awarded nationally through the Black Founders Fund.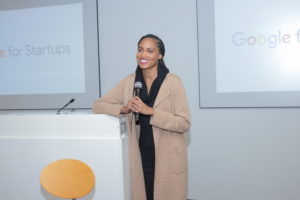 The Google for Startups Black Founders Fund was announced in June as part of Google's company-wide racial equality commitments. Unlike equity dependent funds, non-dilutive cash awards allow founders to make meaningful updates to their business with no strings attached. In line with Google for Startups mission, these founders will also receive the best of Google's technical resources, people, and best practices, through future Google for Startups programming.
"We are committed to helping Black founders who have been deeply impacted by COVID-19 and who are disproportionately locked out of access to the funding they need to succeed," says Jewel Burks Solomon, Head of Google for Startups US. "By combining cash awards with Google for Startups mentorship and programming, we hope to help create a more level playing field for these founders, who are building amazing companies and making an impact on their communities."
"Black founders and startups are essential to innovation and technology advancement across the state," said Georgia Lt. Governor Geoff Duncan. "We applaud Google for its continued investment in Georgia's business owners and founders — helping us further solidify our state's identity as the Technology Capital of the East Coast and one of the top states for business."
Atlanta-based Goodie Nation, a nonprofit organization that facilitates and accelerates social capital opportunities to help fill the funding gap for diverse founders and social entrepreneurs, will manage the distribution of $5 million in cash awards for Black Founders Fund recipients nationwide.
"The Black Founders Fund has the potential to change the trajectory of Black entrepreneurship in Atlanta and across the country," said Joey Womack, CEO of Goodie Nation. "We are honored to work with Google for Startups to bring our expertise of providing business connections to accelerate growth, mentoring, peer-accountability, best practice sharing, and a community for founder support."
Georgia-based Black Founders Fund recipients:
Aquagenuity
Brown Toy Box
Clubba (by Usit Inc.)
Countalytics
Deepr
Edifius
Film Connx
Goodr
Healthy Hip Hop
Infiltron Software Suite
Jax Rideshare Rentals
Just Add Honey
Knac
Kommute
Laine London
Latched and Hooked Beauty
LVNGbook
Make Music Count
MantisEDU
Mar Dat
Music Tech Works
Musicbuk
Optimal Technology Corporation
Origyn, PBC
Pharaoh's Conclave
Portrait Coffee
Qoins
SOIL
SPRAISE
Staat
TQIntelligence
TruDiary
U Scope Technologies
Vibe Ride
WRINKLE FREE DELIVERY
"The Google for Startups Black Founders Fund will have a considerable impact on the growth of Portrait Coffee," says Aaron Fender, founder of Portrait Coffee, a specialty coffee company leveraging excellent product and hospitality to reimagine Black representation in the industry. "This capital and support comes at a critical time, allowing us to hire more team members and purchase additional manufacturing equipment to support our growing business."
---
ABOUT GOOGLE FOR STARTUPS
Google for Startups works to level the playing field for startup founders and communities to succeed by bringing the best of Google's products, connections, and best practices to startups. Paired with a deep commitment to create diverse startup communities, many of our offerings are designed specifically to provide underrepresented founders with access to resources and opportunities. We support startups everywhere to build something better. Because when startups succeed, we all succeed.
ABOUT GOODIE NATION
Goodie Nation was founded in 2014 by Joey Womack. Since then, Goodie Nation has been on a mission to create a better and more sustainable future for us all through impact entrepreneurship. The organization is dedicated to helping founders accelerate success by providing access to capital, pilot opportunities and best practices through mentorship and connections. Today, more than 75 founders have the support of Goodie Nation to drive their business. To learn more, follow Goodie Nation on Instagram @goodnation or visit https://goodienation.org/.