Payments Veteran to be Recognized at Fintech South for Decades of Innovation and Leadership
ATLANTA (Sept. 28, 2020) – Technology Association of Georgia (TAG) announces payments industry veteran, M. Troy Woods, to receive the Fintech Lifetime Achievement award during Fintech South on Monday, Oct. 5. Previous recipients of this distinction nominated Woods for his leadership in setting the foundation for Georgia to become the global fintech hub it is today.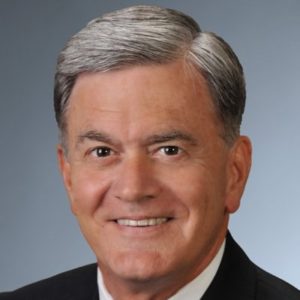 Woods, who became Chairman of Global Payments upon the merger with TSYS in September 2019, is being recognized for his successes over a 33 year career building TSYS into one of the true pillars of Georgia's fintech ecosystem. Woods joined TSYS in 1987 and became the Columbus based firm's CEO in 2014. Throughout his tenure, he guided the company's diversification strategy into fast- growing areas of payments, directed TSYS' international expansion and championed its "People-Centered Payments" model, centered on the belief that payments should revolve around people, rather than the other way around.
Under Woods' leadership TSYS added innovative players like Netspend and Cayan to its portfolio. In 2019, Woods helped to engineer the merger of equals between TSYS and Global Payments, one of three payments mega-deals within a six-month period that redefined Atlanta's fintech landscape and ushered in an era of global scale with Georgia as its fulcrum.
"This prestigious award honors the industry leaders who have played significant roles in establishing Atlanta as the global fintech hub it is today," says Larry Williams, president and CEO of TAG. "Through his leadership building and establishing TSYS into a global fintech powerhouse, and now continuing at Global Payments, Woods is a payments visionary who has been a staple in the fintech industry for decades. We're honored to welcome him into the Fintech Hall of Fame."
Presented by the Technology Association of Georgia (TAG), Fintech South is a global exchange of insights, innovations and trends fueling tomorrow's financial tech industry. Taking place October 5 – 9, the 2020 event will bring together senior fintech leaders from Georgia and the global fintech ecosystem, most with C-Suite roles in their organizations, including stakeholders from the payments industry, banking, wealth management, insurance, retail and commerce, government and regulatory, venture capital, startup founders, technology service providers, non-profits, and local, national and international media.
The full agenda and tickets to event are available at https://fintechsouth.com. The title sponsor for Fintech South 2020 is Invesco QQQ. A portion of all ticket sales will support TAG-Ed.
---
About the Technology Association of Georgia (TAG)
TAG's mission is to Connect, Promote, Influence and Educate Georgia's technology ecosystem to advance the innovation economy. Through those four foundational strategies TAG serves the technology community, helping to support, grow and ignite tech leaders, companies and the overall Georgia economy.
TAG serves more than 30,000 members statewide through regional chapters in Metro Atlanta, Augusta, Columbus, Macon/Middle Georgia, and Savannah. TAG hosts more than 150 events each year and serves as an umbrella organization for 26 professional societies.
TAG provides networking and educational programs; celebrates Georgia's technology leaders and companies, and advocates for legislative action that enhances the state's economic climate for technology.
Additionally, the TAG Education Collaborative (TAG-Ed) focuses on helping science, technology, engineering, and math (STEM) education initiatives thrive.
For more information visit the TAG website at www.tagonline.org. To learn about the TAG-Ed Collaborative visit www.tagedonline.org.