Five Georgia companies recognized as prolific, established fintech companies
ATLANTA (July 5, 2022) – BitPay, FirstView Financial, ParkMobile, Relay Payments and Trust Stamp were named winners of the Fintech ADVANCE Awards during the Technology Association of Georgia's (TAG) Fintech South conference. The awards recognize established firms that promote innovation and growth in Georgia's fintech industry. The program requires a customer reference to confirm that winners are indeed providing real value through technology.
"We often recognize companies just getting started, but it's just as important to highlight the innovation coming from established companies in Georgia," said Maria Luisa Pineda, co-chair of the Fintech ADVANCE Awards. "This year's five winners are companies that have been innovating and strengthening the fintech community over time."
There were a record number of applications in 2022. More than 50 companies applied and 13 made it to the finals. The winning companies provide a variety of tech services:
BitPay builds powerful tools for spending, accepting, and building with bitcoin.
FirstView Financial is a forward-thinking healthcare fintech company passionate about ensuring patient access to healthcare in an evolving market.
ParkMobile is the leading provider for on-demand and prepaid mobile payments for on- and off-street parking.
Relay Payments is an end-to-end payment solution that takes the frustration out of lumper payments by providing instant, electronic payments.
Trust Stamp is a global provider of AI-powered identity services for use in multiple sectors including banking and finance, regulatory compliance, government, real estate, communications, and humanitarian services.
Other finalists included Steady, Layr, Bitcoin Depot, Payrix, Paya, Capway, Vesta and Agora.
"We're grateful for these companies and their contributions to the thriving fintech industry in Georgia," said Larry Williams, President and CEO of TAG. "Fintech growth in our state would not be possible without these established leaders."
To learn more about the ADVANCE Awards and past winners, please visit www.tagonline.org/tag-fintech-advance-awards/.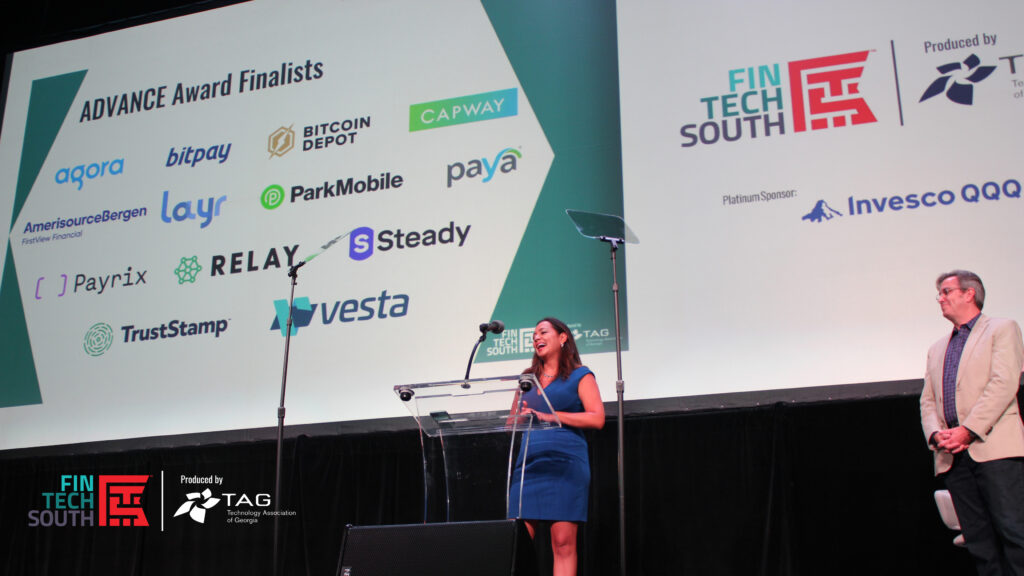 ---
About the Technology Association of Georgia (TAG)
TAG's mission is to Connect, Promote, Influence and Educate Georgia's technology ecosystem to advance the innovation economy.  Through those four foundational strategies, TAG serves the technology community, helping to support, grow and ignite tech leaders, companies and the overall Georgia economy.
TAG serves more than 30,000 members statewide through regional chapters in Metro Atlanta, Augusta, Columbus, Macon/Middle Georgia, and Savannah. TAG hosts more than 150 events each year and serves as an umbrella organization for 26 professional societies.
TAG provides networking and educational programs; celebrates Georgia's technology leaders and companies, and advocates for legislative action that enhances the state's economic climate for technology.
Additionally, the TAG Education Collaborative (TAG-Ed) focuses on helping science, technology, engineering and math (STEM) education initiatives thrive.
For more information visit the TAG website at www.tagonline.org. To learn about the TAG-Ed Collaborative visit www.tagedonline.org.