Payments startup named the winner during the Fintech South conference
ATLANTA (June 29, 2022) – Arcum Partners, an AI firm focused on helping payments companies strengthen and rebuild their client relationships, was named the winner of the 2022 Innovation Challenge during this month's Fintech South conference, sponsored by the Technology Association of Georgia (TAG).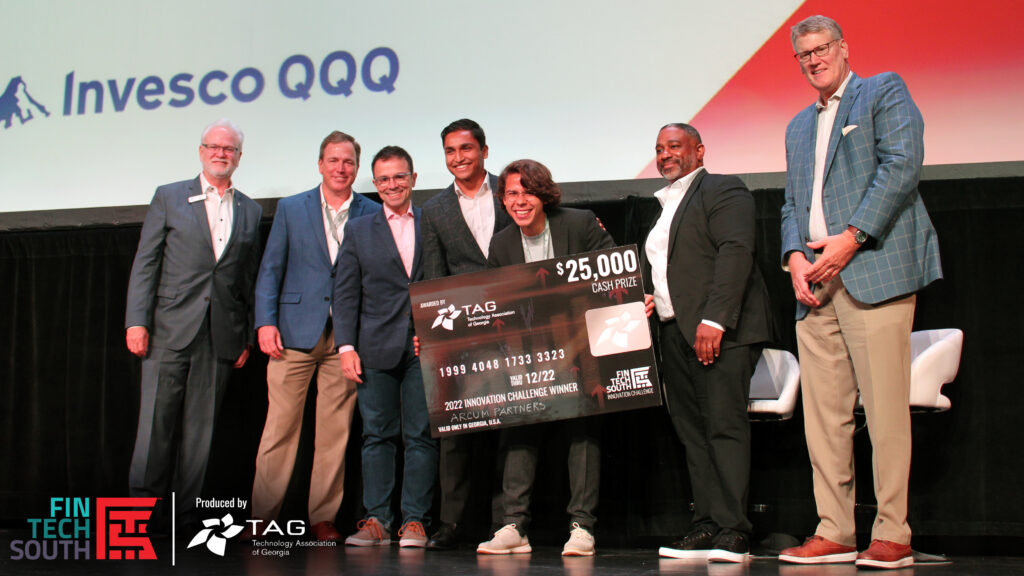 Arcum Partners was one of seven companies in the Innovation Challenge cohort and participated in a four-week mentorship program to further develop its business, products and solutions. Three of the seven companies were selected as semi-finalists and presented to the audience at Fintech South for a final vote, which was awarded to Acrum Partners.
"We are honored to be chosen as the 2022 Innovation Challenge winner," said Sebastian Builes, CEO of Arcum Partners. "We're grateful to TAG and Fintech South for empowering a collaborative culture for Georgia fintech companies."
Arcum Partners was selected to receive a $25,000 cash prize and a free year of admission in the ATDC Accelerate program.
"We were delighted to have the Fintech South Innovation Challenge back in person," said Qazi Haq, Co-Chair of the Innovation Challenge at Fintech South. "All our cohort companies are driven by purpose and passion, and we're happy to have them in Georgia's fintech ecosystem."
Other 2022 cohort member companies included Ecovert Wallet, Defynance, Intellekt AI, Quinn Cobbledger, Bank Shot and New Guard Financial.
"As Georgia's most prominent organization dedicated to fostering growth in Georgia's technology industry, TAG is honored to help companies like Arcum Partners flourish in the state of Georgia," said Larry Williams, President and CEO of TAG.
To learn more about the Fintech Innovation Challenge and this year's winner, visit www.tagonline.org/awards/ft-innovation-awards/.
---
About the Technology Association of Georgia (TAG)
TAG's mission is to Connect, Promote, Influence and Educate Georgia's technology ecosystem to advance the innovation economy.  Through those four foundational strategies, TAG serves the technology community, helping to support, grow and ignite tech leaders, companies and the overall Georgia economy.
TAG serves more than 30,000 members statewide through regional chapters in Metro Atlanta, Augusta, Columbus, Macon/Middle Georgia, and Savannah. TAG hosts more than 150 events each year and serves as an umbrella organization for 26 professional societies.
TAG provides networking and educational programs; celebrates Georgia's technology leaders and companies, and advocates for legislative action that enhances the state's economic climate for technology.
Additionally, the TAG Education Collaborative (TAG-Ed) focuses on helping science, technology, engineering and math (STEM) education initiatives thrive.
For more information visit the TAG website at www.tagonline.org. To learn about the TAG-Ed Collaborative visit www.tagedonline.org.