The Advanced Technology Development Center, Georgia's technology incubator, announces its Double Vision Event to celebrate its 40th anniversary and recognize eight companies that are graduating from its program.
The event will be held on October 20 starting at 6.30 p.m. and is a double celebration of milestones achieved by the incubator and its portfolio companies. It provides attendees with two ways to join the festivities — a livestream or drive-in at The Springs Cinema & Tap House.
ATDC's Double Vision Event will feature exhibitions, movies, and entertainment that celebrate its 40-year legacy of helping entrepreneurs launch and scale successful startups. Tickets go on sale September 18. (Please register at this link: https://www.eventbrite.com/e/atdc-double-vision-event-graduation-celebration-film-debut-tickets-115372508278.)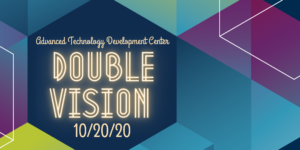 Greenlight, an ATDC 2018 financial technology (FinTech) graduate and named to CB Insights' list of 2020's top 250 FinTech companies, is the Double Vision Event's premier sponsor. Mailchimp, the marketing automation platform and email marketing service, is headline sponsor. Also sponsoring the event are 2018 FinTech graduate Groundfloor, and Noro-Moseley Partners, Georgia's inaugural venture capital fund whose first-ever investment in the 1980s was in Sales Technologies, ATDC's first graduate company.
"This is not just an important milestone for ATDC, but for the state of Georgia as whole," said ATDC Director John Avery. "We're proud of our 40-year record of success in helping to create and shape a community of innovators and entrepreneurs right here in Georgia.
"This wouldn't be possible without the bold and continuing visionary leadership of the state legislature and governors since our founding in 1980, Georgia Tech's commitment to innovation, our sponsors, and an entrepreneurial community eager to create companies here in our state."
The eight graduating companies have met several milestones including annualized revenues exceeding $1 million, a scalable business model, and the ability to finance their ongoing growth. They join more than 185 companies that have graduated from the incubator.
"We are proud of the ATDC Class of 2020," said Frank Tighe, ATDC's lead entrepreneur-in-residence. "They are having meaningful impact and represent the technology sectors where Georgia is strong such as health, finance, renewable energy, enterprise software development, and logistics. Each one is a game-changer in its industry."
The ATDC Class of 2020 is:
Cypress.io: Fast, easy and reliable testing for anything that runs in a browser.
Emrgy: Harnesses the power of flowing water to generate energy without dams or construction.
Quest Renewables: Creates high-value, solar racking solutions that enable customers to eliminate waste, increase value, and enter new markets.
Rimidi: Its cloud-based software solution enables personalized management of chronic cardio metabolic conditions across populations.
RoadSync: This payments platform simplifies fee collection, increases speed and security, and optimizes business operations for the logistics industry.
Springboard: Optimizes the employee benefit open enrollment experience through proprietary self-service enrollment technology, highly-rated benefit coaches and live-chat channels.
Steady: Web and mobile application that lets users access a platform listing part-time, hourly and on-demand work opportunities.
Trust Stamp: Provides biometric identity verifications and anti-fraud technology to financial technology (FinTech) companies.
Graduates said being part of ATDC was a critical component to their growth and success.
"I can't imagine rapidly growing RoadSync without the support of the team at ATDC," said RoadSync CEO Robin Gregg. "They've helped us with everything from connecting us to investors to helping us navigate the challenges of growth."
The company is in expansion mode, and has hired 20 people in the past six months including developers, product managers, inside sales, and customer support and success.
"For Quest, ATDC provided three really important benefits — a roster of experts who helped us as we developed as a company, a community of companies and entrepreneurs from whom we could learn and share experiences, and a connection into the infrastructure that exists at Georgia Tech, the Georgia Research Alliance, and the state of Georgia's resources for startups," said Norman "Finn" Findley, Quest's CEO.
"ATDC is uniquely positioned to bring all of that together and thanks to ATDC, we were able to accelerate our business far ahead of where we would have been, had we done this on our own."
---
About the Advanced Technology Development Center:
The Advanced Technology Development Center (ATDC), a program of the Georgia Institute of Technology, is the state of Georgia's technology startup incubator. Founded in 1980 by the Georgia General Assembly which funds it each year, ATDC's mission is to work with entrepreneurs in Georgia to help them learn, launch, scale, and succeed in the creation of viable, disruptive technology companies. Since its founding, ATDC has grown to become one of the longest running and most successful university-affiliated incubators in the United States, with its graduate startup companies raising $3 billion in investment financing and generating more than $12 billion in revenue in the state of Georgia. To learn more, visit atdc.org.