Happy Georgia STEM Day everyone! This day provides a reminder for everyone in the tech community of the importance of STEM education and retaining talent in the Georgia community. For this year's Georgia STEM Day, TAG Education Collaborative (TAG-Ed) has created exciting and educational events to foster and encourage the next generation of STEM professionals. We are proud to participate in this day, along with other districts from all over the state.
Using TAG's strategic partnerships from educational organizations to universities such as Georgia Tech Research Institute and University of Georgia College of Engineering, TAG brings knowledgeable STEM educators to connect with and educate students. TAG-Ed welcomes students K-12 to participate in age-group specific sessions such as Quantum Computing, Video Game Design, Building a Solar Oven, and conversations with leaders from Georgia Power, Lockheed Martin, and more. TAG-Ed is proud to host these events and to excite students about a career in STEM!  
In addition to TAG-Ed's participation in STEM Day, the organization has continued the "Feed/Foster/Accelerate" campaign which also promotes awareness of STEM Education. TAG also supports legislative policies which align and advance K-12 STEM curriculum to prepare students and meet needs of the technology workforce in Georgia.  
Supporting these policies as well as participating in STEM Day has allowed TAG to progress in our mission to strengthen Georgia's future technology workforce. Thank you to everyone who supports TAG in this goal and encourages students to pursue careers in STEM! 
Have a great weekend,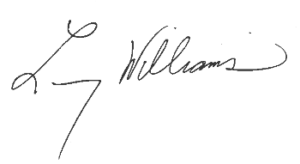 Larry K. Williams
President & CEO, Technology Association of Georgia (TAG)