Industry Leader Named Director of Georgia Tech's New FinTech Program Says Adaptable Workforce is Key to Innovation
ATLANTA – February 4, 2021 – Georgia Tech Professional Education (GTPE) has selected Amy W. Corn as Academic Program Director of its forthcoming Financial Technology (FinTech) professional education and training program. This program is integral to a collaborative FinTech initiative with the State of Georgia and the Board of Regents University System of Georgia (USG) to develop career pathways in this growing and important industry.
The FinTech industry is a significant economic driver for the state, with over 70% of the world's payments processed through a Georgia company. Georgia is also home to several of the largest asset management, capital markets, and insurance companies in the world. As the home for 170 fintech companies that generate over $70 billion in revenues annually, Atlanta is poised as a global hub.
To maintain this position, the industry will not only need a reliable source of new talent but educational options that support the learning and development of an existing talent pool that can be re-skilled and upskilled in preparation for leadership in an ever-changing marketplace.
"The financial services industry in the past is vastly different from its needs for the future," says Corn. "In the last year alone, the technological demands of the digital economy have shifted dramatically and the need for adaptation is stronger than ever. Professional education that adapts to the pace of change will bolster the ability for workers and corporations alike to innovate and transform."
Corn has 25 years of progressive leadership in FinTech and telecommunications. Her work has focused on defining and implementing core strategic capabilities amid industry disruption and transformation. From design and oversight of a global brand refresh to developing a standard operating model, she is adept at identifying transformational strategies and operationalizing program growth.
As the Founder/CEO of the AWC Strategy Group, Corn specializes in strategic business planning utilizing expertise grounded in managing change. Most recently, Corn served as the Senior Vice President of Marketing and Communications for Global Payments Inc, a leading worldwide provider of payment technology and software solutions. Corn holds a Bachelor of Science in Communications from the University of Tennessee, Knoxville and is a member of the university's College of Communication and Information Board of Visitors.
"For a professional education program to provide long-term impact, it is essential to leverage the insight of someone who understands the ecosystem and key factors at play inside that particular industry," says Nelson Baker, dean. "Amy not only possesses deep expertise, but also a strong historical understanding of the change the FinTech industry has experienced over the past few decades. This balanced with an intrinsic drive for partnership and collaboration will be crucial for the professional education aspects of this statewide initiative."
As the global campus and lifetime education arm of the Georgia Institute of Technology, GTPE offers professional development courses, certificate programs, and online master's degrees in STEM and business fields worldwide. "GTPE frequently sits at the intersection of education and business, a unique position that allows us to strategically align our programs with their needs, amplifying their impact to the overall economy," says Nisha Botchwey, associate dean of academic programs. "As educational innovators, we have a long track record of developing industry-specific programs that meet the needs of an evolving workforce."
"Fintech professional education is a key strategic pillar of the Georgia Fintech Academy plan," says Tommy Marshall, executive director, Georgia Fintech Academy. "It is our vision to provide high-quality, relevant professional education experiences for the FinTech industry here in Georgia and across the globe."
Corn plans to craft a program that aligns with the evolving needs of the FinTech ecosystem while tapping into Georgia Tech's STEM expertise as a top-ranked research institution. As director, she will oversee the creation, development, implementation, and sustainability of the new professional education program. This will include collaborating with fellow faculty across partner USG Institutions to create new courses or reformat existing courses to develop a curated professional education portfolio that matches talent and workforce development demands. She began in her new role on January 1, 2021.
"I look forward to combining my extensive knowledge with the renowned capabilities of Georgia Tech, as we work to strengthen and sustain the industry and its workforce for years to come," says Corn.
To learn more about the initial plans for this initiative please visit pe.gatech.edu/programs/fintechu.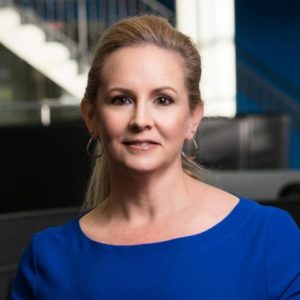 ---
About Georgia Tech Professional Education
Georgia Tech Professional Education is the global campus and lifetime education arm of the Georgia Institute of Technology offering professional development courses, certificate programs, and online master's degrees in a variety of formats to meet the needs of working professionals and industry partners in STEM and business fields worldwide. In FY20, we educated and supported nearly 129,000 learners – the "hidden students" who don't live on campus but out-number those who are physically here – representing more than 1,600 companies.