APRIL 28, 2022 – ATLANTA – Comcast Business has been recognized by the Technology Association of Georgia (TAG) as a technology champion for its efforts to increase digital equity in Georgia. In February, Comcast Business received the 2022 TAG Tech for Good Award, recognizing Comcast's Lift Zone program and its impact on the state.
"Comcast is committed to keeping our communities connected, and we are honored to receive the TAG 'Tech for Good' Award," said Jeff Buzzelli, Senior Vice President of Comcast Business. "Lift Zones are an important part of Comcast's ongoing work to ensure that families, students and seniors have access to the Internet and educational resources, job opportunities, healthcare information and the digital economy."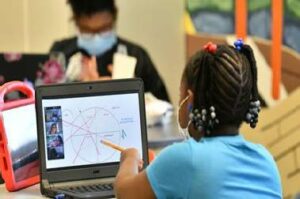 Lift Zone Program Enhances Connectivity
Lift Zones are an essential component of Comcast's Diversity, Equity and Inclusion initiatives. The Internet Essentials program has helped connect over 520,000 Metro Atlanta residents to Internet service since 2011.
The Comcast Internet Essentials program brings affordable, high-speed home Internet to eligible households. Through the Federal Government's Affordable Connectivity Program,Internet Essentials customers can save even more by receiving a credit of up to $30 a month toward the cost of Internet service and mobile services.
In celebration of the Internet Essentials program's 10th anniversary, Comcast partnered with several community leaders and organizations to host Lift Zone recognition events across the state.
In Clayton County, Comcast joined Clayton County Board of Commissioner Chairman Jeffrey E. Turner and Commissioner Felicia Franklin to recognize the first anniversary of Flint River Community Center's Lift Zone location by surprising 100 students and seniors with free laptops.
In Cobb County, Comcast partnered with Cobb County Chairwoman Lisa Cupid and Commissioner Monique Sheffield to highlight the Girls Inc. of Greater Atlanta's Lift Zone anniversary, donating more than 200 laptops to students.
These events are part of the Project UP initiative, Comcast's national comprehensive $1 billion commitment to reach 50 million people, help advance digital equity, and build a future of unlimited possibilities. Comcast RISE is part of Project UP, and the program helps to provide underrepresented small business owners with access to the digital tools and funding they need to thrive. More than 400 small businesses in Georgia have been selected as Comcast RISE award recipients.
Rachel Ozias Named 2022 TAG Emerging Leader of the Year
In addition to honoring Comcast Business with the Tech for Good Award, TAG also recognized Rachel Ozias, Vice President of Xfinity Consumer Services, as Emerging Leader of the Year.
Ozias previously served as Vice President of Marketing for Comcast Business at the Central Division offices, where she was responsible for the development and execution of marketing strategies to drive demand and growth across small and medium–sized businesses. In March 2022, she was appointed as Comcast's new Vice President of Xfinity Consumer Services for the company's 'Big South' Region.
"Rachel is a dynamic leader and strong advocate for enhancing technology and creating innovative solutions that provide an unbeatable Internet and mobile experience for our residential and business customers," said Buzzelli.
A 17-year veteran of Comcast with a variety of commercial and residential sales and marketing experience, Ozias is passionate about building a positive and collaborative team culture, developing high-performing teams, and mentoring others to help them on their career journeys.
Last year, she successfully supported the launch of Xfinity Mobile within Comcast Business and created an online communication platform that resulted in 70 percent adoption by representatives across sales channels.
---
About Comcast Business
Powered by the nation's largest Gig-speed broadband network, and backed by 24/7 customer support, Comcast Business is the nation's largest cable provider to small and mid-size businesses and one of the leading service providers to the Enterprise market. Comcast Business offers a suite of Connectivity, Communications, Networking, Cybersecurity, Wireless, and Managed Solutions to help organizations of different sizes prepare for what's next. For more information, visit www.business.comcast.com.
About Comcast Corporation
Comcast Corporation (Nasdaq: CMCSA) is a global media and technology company that connects people to moments that matter. We are principally focused on broadband, aggregation, and streaming with over 57 million customer relationships across the United States and Europe. We deliver broadband, wireless, and video through our Xfinity, Comcast Business, and Sky brands; create, distribute, and stream leading entertainment, sports, and news through Universal Filmed Entertainment Group, Universal Studio Group, Sky Studios, the NBC and Telemundo broadcast networks, Peacock, NBC News, NBC Sports, Sky News, and Sky Sports; and provide memorable experiences at Universal Parks and Resorts in the United States and Asia. Visit www.comcastcorporation.com for more information.