Arun Rai, Regents' Professor of the University System of Georgia and co-founder and director of the Center for Digital Innovation at Georgia State University's J. Mack Robinson College of Business, is the inaugural holder of the Howard S. Starks Distinguished Chair. The appointment was approved by the Board of Regents of the University System of Georgia on April 13.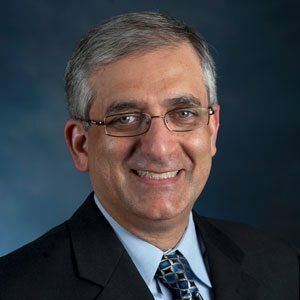 The Howard S. Starks Distinguished Chair was established by an endowment from the estate of Howard S. Starks, a longtime executive with C&S Bank (now Bank of America), to be held by an eminent scholar. It represents a major commitment to elevate the global reputation of the Robinson College and its stature among business schools in the United States.
Rai is uniquely qualified for the appointment, which specified selection of a chairholder with an international reputation for scholarly excellence, a sustained record of high-impact and innovative research, and demonstrated achievement with potential for continued broad-based impact to shape the future direction of scholarship at-large and within the Robinson College.
"Arun Rai is internationally regarded as among the top scholars in business research. He has shaped the direction of our college across all dimensions of teaching, research and service for many years, and I fully expect Arun will continue to make such an impact in the future," said Richard Phillips, dean of the Robinson College.
Rai's research has investigated the development and deployment of information systems to drive innovation and create value, spanning high-stake problem domains in business and society: from hi-tech firms to supply chains to platform ecosystems to online communities to rural areas of developing countries. His scholarship has contributed to understanding of the design, use, and impacts of information systems; digital transformation of organizations, supply chains, and markets; governance of information technology resources, online collectives, and digital platforms; and deployment of digital innovations to address societal problems including poverty, health disparities, infant mortality, and digital inequality.
Much of Rai's research involves close engagement with organizations across sectors and countries (e.g., Apollo Hospitals, China Mobile, Emory Healthcare, Gartner, Georgia-Pacific, Grady Hospital, IBM, Intel, SAP, SunTrust [now Truist], UPS), and has been sponsored by government agencies, corporations and thought leadership forums.
Rai is among the most prolific authors in premier information systems journals and one of the discipline's most cited researchers. He is one of its most decorated scholars, receiving the LEO Award for Lifetime Exceptional Achievement from the Association of Information Systems (AIS), the INFORMS Information Systems Society Distinguished Fellow Award, and the AIS Fellow Award.
He was editor-in-chief of "MIS Quarterly," considered the premier scholarly journal in information systems, from 2016-2020, and has served as senior editor or associate editor of other premier journals including "Information Systems Research" and "Management Science."
At Georgia State University, Rai has played leadership roles in developing interdisciplinary research initiatives and curricula related to digital innovation, artificial intelligence, and analytics. Several of his former Ph.D. students are chaired professors and hold leadership positions at their institutions and in the profession.
Prior to being named the Howard S. Starks Distinguished Chair, Rai was the J. Mack Robinson Chair of IT-Enabled Supply Chains and Process Innovation and James A. Harkins III Professor in Information Systems. He has also held visiting appointments at universities in Australia, France, Germany, Hong Kong, and Slovenia.