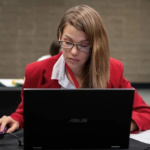 SkillsUSA Georgia Postsecondary participated in the SkillsUSA National Leadership and Skills Conference on June 20-24, 2022 at the Georgia World Congress Center. The first in-person national conference since 2019, students from across the country competed in a variety of competition areas to showcase their skills. Business and industry professionals served as judges who selected the best in each contest and Georgia Postsecondary landed in the top 5 in every technology related contest!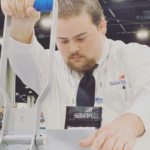 The 2022 national results are as follows for Technical College System of Georgia students competing in technology related contests:
Graphics Imaging Sublimation: National Gold Medal – Justin McClellan, Augusta Technical College
Pin Design: National Gold Medal – Nadia Harris, Wiregrass Georgia Technical College
Cyber Security: National Bronze Medals (team) – Andrei Wingo & Andre Dessert, Augusta Technical College
Television (Video) Production: National Bronze Medals (team) – Dania Alawir & Christopher McIntosh, Augusta Technical College
Advertising Design: Top 5 National Placement – Emily Pinto, Augusta Technical College
Digital Cinema Production: Top 5 National Placement – Joshua Ingram & James Rush II, Savannah Technical College
Photography: Top 5 National Placement – Jarrod Coffey, North Georgia Technical College
T-Shirt Design: Top 5 National Placement – Andew Ngo, Wiregrass Georgia Technical College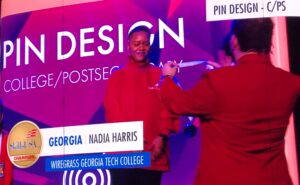 ---
About SkillsUSA
Founded in 1965, SkillsUSA is a nonprofit partnership of students, instructors, and industry that ensures America has the skilled workforce it needs to stay competitive. The association serves more than 300,000 member students and instructors each year in middle schools, high schools, and colleges. This diverse talent pipeline covers 130 trade, technical and skilled service occupations, the majority STEM-related.
SkillsUSA programs are integrated into career and technical education through a framework of personal, workplace, and technical skills grounded in academics. To learn more, visit SkillsUSAGAPS.org
About the Technical College System of Georgia
The 22 colleges of the Technical College System of Georgia (TCSG) are Georgia's top resource for skilled workers. TCSG offers world-class training in more than 600 associate degree, diploma and certificate programs to students who are trained on state-of-the-art equipment by instructors who are experts in their fields. The system also houses Georgia's Office of Adult Education, which promotes and provides adult literacy and education programs, including the GED® testing program, throughout the state. In addition, TCSG partners with companies through Quick Start, the nation's top customized workforce training program, and through its individual colleges, who work with local industry to provide workforce and training solutions. For more information, visit www.TCSG.edu.