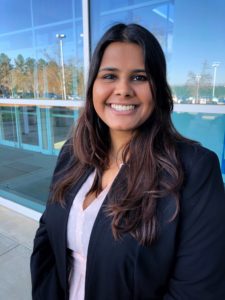 During this presentation, you will learn about the processes through which weather information is collected by the Weather Company. The presentation will also discuss how these weather predictions are used to make important decisions for planning large-scale events and issuing advisory warnings. Khushboo will guide the audience in learning meteorological terms and demonstrating how technology enables IBM to leverage weather data in critical real-world scenarios. Khushboo will also explain how companies utilize weather data for additional purposes.
Khushboo Sarda Bio:
Khushboo Sarda is a Digital Sales Representative working in Security at IBM.
Originally for Georgia, Khushboo attended the University of Georgia and received her B.S. in Biochemistry in 2018. After joining the workforce full-time, Khushboo decided to return to school and get a Master's in Business Administration. She just completed her MBA from Louisiana State University in June of this year. Outside of work, Khushboo enjoys hobbies such as kickboxing, play the flute, and painting. Khushboo is currently in the Summit Rotation Program at IBM. Khushboo currently lives in Johns Creek, GA.