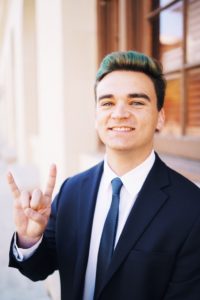 Teaching Computers to See: A Brief Look at A.I.
Have you ever wondered how Facebook is able to pick your face out of a crowd? Or how Snapchat knows where to put those funny filters? Then why not celebrate STEM Day with us!
Join Daniel Snyder of the IBM company as he walks through a journey of how Artificial Intelligence came to be and how companies like Google, Facebook, and Snapchat "train" AI to recognize images of all kinds -including images of you!
To demonstrate how image recognition AI are trained, Daniel will provide students with pictures of various real-world objects, animals, and people. Working together to identify consistent patterns in the appearance of these objects— cats typically have pointed ears and a long tail, for example— students will learn how advanced pattern-matching techniques are used in a variety of AI scenarios.
BIO:
Daniel Snyder is a Technical Solutions Specialist based in Atlanta, Georgia. Daniel joined the IBM organization in August 2019 as a Summit Sales Trainee where he began to learn the core practices and skills of an IBM seller. Before this, Daniel earned his bachelor's degree in Mechanical Engineering from the University of Texas at Austin, with minors in business and computer science. Daniel is an avid soccer fan, every weekend he likes to watch his two favorite teams: the Houston Dynamo and Manchester United.