We have sold out on this event! If interested in being added to the event waitlist, please email jessica@tagonline.org 
Join TAG Corporate Development Society for a stimulating fireside chat with industry thought leader and key performer, Don Layden, EVP and President – Payments & Networking Group, Head of Strategy and M&A, NCR Corporation. The conversation will be led by John Yates, Morris, Manning & Martin, corporate technology practice leader.
Don and John's conversation will highlight NCR's plan to spin off into two new publicly traded standalone companies.
Don is responsible for NCR's strategy, including long-term planning, strategic investments, and mergers and acquisitions. He leads a new NCR business group created after the merger with Cardtronics, responsible for providing end-to-end network and payments solutions. Don has advised venture capital and private equity groups and served as a director of three public companies and several private fintech and payments companies throughout his career.
NCR is at the center of every integration from Mom-and-Pops to the most sophisticated banks, stores and restaurants on the planet. They deliver all the software, hardware and services their customers need to run their operations.
The event will be held at NCR's global headquarters in midtown Atlanta with a tour of their high tech offices afterward.
Opening Remarks:
Ann McDonald
Director of Business Development – Corporate Technology, Morris Manning & Martin
Meet our Fireside Chat Speakers:
Don Layden
EVP Payments & Network Group; Head of Strategy and M&A, NCR
John Yates
Partner, Morris Manning & Martin
Moderator
Thank you to our Society Annual Sponsor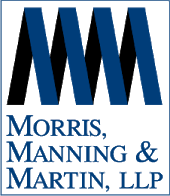 Per CDC recommendations, people with symptoms, a positive test, or exposure to someone with COVID-19 should stay home. Masks are optional.