Event pre-registration will close Wednesday, May 3rd at 10am to comply with building security. After this time, we will offer on-site registration.
Join the TAG Corporate Development Society on May 5th for a fireside chat, "How AI Will Impact Our Future," with John Kanan, Senior Partner at Bain & Company.
In this fireside chat, John Kanan and Morris, Manning & Martin's John Yates will discuss key trends in artificial intelligence, opportunities in applying the technology, and broader investment themes in AI. Join this society for light breakfast, networking, and insightful discussion with experienced leaders in corporate development.
Opening Remarks:
Ann McDonald
Director of Business Development – Corporate Technology, Morris Manning & Martin
Meet our Fireside Chat Speakers:
John Kanan
Senior Partner, Bain & Company
John Yates
Corporate Technology Practice Leader, Morris Manning & Martin
Moderator
Thank you to our Event Sponsor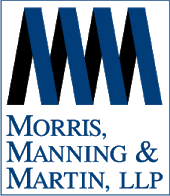 Thank you to our Society Annual Sponsor

Per CDC recommendations, people with symptoms, a positive test, or exposure to someone with COVID-19 should stay home. Masks are optional.