Technology Association of Georgia has launched Bridge Builders to remove the walls impeding progress and diversity in Georgia. Bridge Builders is a Social Justice & Equity initiative designed to bring the technology and business community together to drive change.
TAG Bridge Builders has developed TAG Connect, an event that connects Black tech entrepreneurs (sellers) with access to procurement opportunities from buyers.
In a shark-tank style sales presentation, each entrepreneur will have the opportunity to present their products or services directly to corporate decision-makers.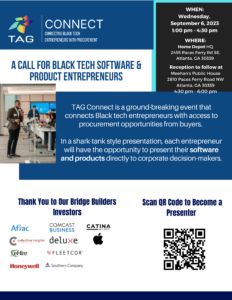 Georgia-based technology-based business
Majority Black-owned
Sellers will present a 25 minute presentation describing your company's products/services to a panel of corporate buyers.
TAG Connect featured in Atlanta News First
TAG Bridge Builders Advisory Board
Louis Gump
President
Digital Current, LLC
Stephen D. Hassett
CEO
Technology