They all inspire innovation.  OK, let me explain. 
On Wednesday I was eagerly awaiting the United States' return to space with the launch of Space X. The launch inspires me and I can't help but reflect when I was a boy sitting in front of the black and white television mesmerized by the Apollo 11 and the journey of the 3 brave astronauts.  Fast forward, and this week I'm monitoring NASA's website to witness this historic event over a live stream (And yes, I will be watching tomorrow after the launch was scrubbed Wednesday due to weather).
The US returning to space is inspiring and the way we are getting there is a testament to great innovation.  The private sector is leading us back to space supported by the experience and know-how of NASA.  Yester-year it was NASA that led our space travel with the support of the private sector.  I'm just as excited today as I was 50 years ago and I see the excitement in so many people of all ages as well. Its awe inspiring.
STEM (Science, Technology, Engineering and Math) – or STE(A)M to add in the Arts – are the disciplines teams need to drive the innovations necessary to achieve important missions like space travel.  Engineers, computer programmers, mathematicians, design experts and all the other talented team members have a deep understanding to apply these disciplines.  STE(A)M is an important area of focus for TAG.
I find the story of Lonnie Johnson, a great technology leader in Georgia so illustrative of the power of STE(A)M.  Raised in Mobile, Alabama in the 50s, Lonnie had a healthy curiosity and was inspired by space exploration.   Lonnie liked experimenting with model rockets and even sought to blend his own rocket fuel on the family kitchen stove.  While not an initial success – the kitchen did not fare well – his parents responded by applauding his curiosity and bought him a hot plate and showed him an appropriate location outside to continue his experimentation.
Lonnie went on to become a great aerospace engineer working with NASA and the Airforce on historic projects including the Galileo mission to Jupiter and the Cassini mission to Saturn.  Following his joy of experimentation, he also invented the Super Soaker water gun!
One of the ways TAG supports STEM is the production of Georgia Pathways Magazine to educate teachers, parents and students on STEM related materials.  I invite you to share it.
So, what about Golf.  On September 14, 2020, TAG will be holding our annual golf tournament, TAG-IT.  Hosted at the Cherokee Country Club, we are working with the course and other experts so everyone has fun in a healthy environment to support the TAG Education Collaborative.  I hope that you will come out and enjoy the outdoors and networking with the state's most well-known C-Level Executives while playing in the state's most prestigious golf tournament for technology stakeholders.
TAG, Space Travel, STEM and Golf – they inspire, and they are a whole lot of fun!
Have a good week ahead.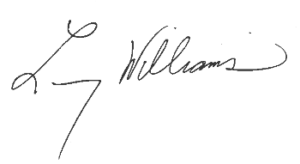 Larry K. Williams
President & CEO