Georgia continues to prove itself as a major technology hub. Home to 18 Fortune 500 headquarters, Georgia has been named the #1 state for business eight years in row by Site Selection (2013-2020) and seven consecutive years by Area Development (2014-2020). Specifically, in the technology sector Georgia has growing demand for technical roles at companies and organizations of all sizes. The state is home to over 52,000 software developers, 44,000 engineers, and 21,000 computer and information analysts (Georgia.org). Those looking for opportunities can visit TAG's job board here.
This week, Deloitte released its annual Technology Fast 500 report on North America's fastest growing technology companies. The list has an impressive showing from Georgia with 24 companies making the list, including OneTrust in the top five. Also making the list are three of this year's Top 40 Innovative Companies: BitPay, GROUNDFLOOR, and SaaSOptics. Watch "SaaSOptics CXO's: From Bootstrapped Startup to SaaS Success" on demand to hear their story direct from the company's senior leadership team. I would like to congratulate our TAG members making the list on their stunning success: OneTrust, SalesLoft, MacStadium, BitPay, Qgenda, Azalea Health, Mobilewalla, and WahooFitness.
But Georgia is more than just a technology hub, Georgia is a Global Innovation Hub. Georgia cultivates talent and supports entrepreneurship and innovation research through world class colleges and universities and state-run initiatives. Georgia Tech stands out as a producer of top-tier talent with all of their engineering programs being ranked in the top 5 nationally. Additionally, Georgia FinTech Academy offers courses to students at all of Georgia's public colleges and universities, further supporting Georgia's status as a global fintech hub. Georgia has invested significantly to be a leader in cybersecurity as well. As of 2019 the Georgia Cyber Center in Augusta is the single largest state investment in a cybersecurity facility in the nation. It is a hub for research, training, partnerships and startups and offers several levels of cyber education, from certificate through graduate school.
Innovators in the state can expect support through multiple programs. Those developing new products are eligible for the Research & Development Tax Credit when starting a new venture or increasing an existing R&D budget. To further support development, Georgia Centers of Innovation (COI) are here to assist companies in translating new ideas and technologies into commercially viable products and services to better compete in the global marketplace. COI's five centers operate statewide with a focus on aerospace, energy technology, information technology, logistics, and manufacturing.
Georgia's initiatives, educational programs, and existing technology ecosystem are attractive to investors and it shows. According to BIP Capital, more than $7.1 billion has been invested in tech startups since 2015. Last year, Georgia ranked 10th among states in the number of companies funded with a total of 153 (National Venture Capital Association). It is exciting for Georgia that the proportion of investment coming from local venture capitalists is increasing as successful tech entrepreneurs like Georgia Technology Hall of Fame inductees David Cumming, Alan Dabbiere and David Dabbiere are turning their gains into support for startups. Read more about tech investment in Georgia here.
Together, we continue to make Georgia's technology ecosystem thrive.
Have a great weekend,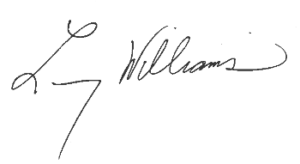 Larry K. Williams
President & CEO