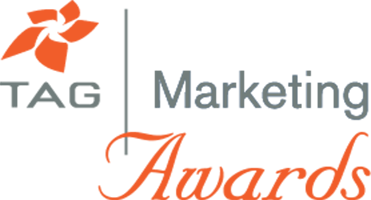 Event Information   
Black Tie Optional
Monday, December 9, 2019
Georgia Aquarium – Oceans Ballroom
6:00 PM- 8:30 PM
Monday, December 9 was an exciting night for Atlanta tech marketers as the 2019 TAG Marketing Awards celebrated excellence in our industry. The TAG Marketing Awards is one of the most anticipated events of the season and honors the accomplishments of both talented marketing professionals and successful teams.
This special evening offers the opportunity to network with industry professionals, savor cocktails, and hear from the best and brightest marketing professionals.
Up & Coming Marketer of the Year
Asia Matos, CEO & Founder, DemandMaven
Taylor Enfinger, ANNUITAS, Director of Technology
Katie Keller, Field Marketing Manager, FullStory
Scott G. Parent, ANNUITAS, Director of Data Science
Marketing Executive of the Year (Enterprise)
Jeremy Melis, Director, Small & Occasional Customer Segment, UPS
Scott White, SVP Marketing, FLEETCOR
Ron McMurtrie, CMO, Sage
Elizabeth Klingseisen, SVP Marketing, Stratix
John Reints, CMO, MarketSource, Inc.
Best Integrated Marketing Campaign of the Year (Enterprise)
Why Credigy – Digital Yalo
The Living Donor and Champions Program – Brown Bag Marketing
Deluxe Rewards Segmentation Campaign – Delux Corp
Future of Credit – Equifax
Zombie Campaign – Sage
Stibo Systems Launches Business-First Message – Stibo Systems
Marketing Executive of the Year (SMB)
Jeff Perkins, CMO, ParkMobile
Jenny Robertson, VP Technology, Annuitas
Molly Dennis, Marketing Manager, IT Works Recruitment, Inc.
Jessica Kirk, VP Marketing, Oversight
Caitlin Poliska, Senior Director Marketing, The Pedowitz Group
Moira Vetter, CEO, Modo Modo
Best Integrated Marketing Campaign of the Year (SMB)
Motivo
Military Family Appreciation Day – Digital Yalo
FIT Life Creation
Oversight Finance Tour – Oversight
Marketing Innovator of the Year
Joey Davis, Senior Brand Manager, Nanolumens
Chris Davis, Director Web Technologies, Annuitas
Kristalyn Mumaw, Strategist, Paid Search & Social, Mower
Bill Reed, Sr. Manager, Product Marketing, Salesforce
Jean Marie Richardson, President & CEO, iFOLIO
Emily Thornton, Senior Consultant, Technology, Annuitas
Digital Marketing Agency of the Year
Digital Yalo
Brainjocks
Brown Bag Marketing
Modo Modo Agency
Write2Market
The Pedowitz Group
Buyer Enabling Technology of the Year
vLink Solution
iFOLIO
MessageGears
 1Q